| | |
| --- | --- |
| Team: Meriter - Physicians Plus | |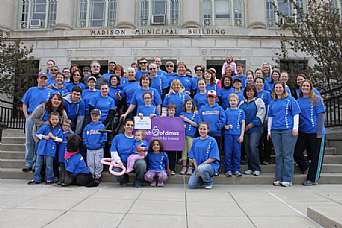 2011 Physicians Plus & Meriter Team.
Message from the Team Captain
Meriter & Physicians Plus have joined thousands of compassionate teams across the country that support March for Babies. Join us in the walk that helps all moms and babies.
Both Meriter & Physicians Plus are dedicated to the health of newborns and their families. Meriter has the busiest birthing center in Wisconsin and the staff provide family-centered care--treating every birth as a uniquely special event. The leading edge NICU brings together compassionate care in an ideal setting. As a Baby Friendly Hospital, Meriter Hospital believes strongly in March of Dimes' mission.
Meriter is pleased to be joined by Physicians Plus in as a Start/Finish Line Sponsor. We hope you join with us on May 11th as we walk together in the hopes that all babies will be born healthy.

The mission of March of Dimes is to improve the health of babies by preventing birth defects, premature birth and infant mortality.
Funds raised in March for Babies support research and programs that help moms have full-term pregnancies and babies begin healthy lives. And they will be used to bring comfort and information to families with a baby in newborn intensive care.
Team Roster
Click on a team member's name to visit their personal page.