MARCH FOR BABIES:
A MOTHER OF A MOVEMENT™
---
Greater Arizona

Chase Field
401 E. Jefferson St , Phoenix, AZ 85004
---
Date: Sunday, April 30, 2023 9:30 AM
Date:
April 30, 2023
Event Time: 09:30 AM
Registration Time: 8:00AM
Location:
401 E. Jefferson St , Phoenix, AZ 85004
Chase Field
Important Update
Our March for Babies celebration is still on, but it looks a little different! We are rapidly preparing for a new, virtualized event that will be fun and engaging for everyone. This change in format aligns with the newly released CDC guidance for large events, to help ensure the safety and health of our participants. More details on our new format to come soon!
Join the Movement, Live and In Person! NEW WALK LOCATION - CHASE FIELD !!!!
In 2023, March for Babies: A Mother of a Movement™ has a bold new vision. More than just a walk, it's your entry into making a visible difference in your community now and for generations to come.
By participating in March for Babies, you're lifting up communities for health equity, opening the door for all moms to have access to care and protecting the health of families by pushing for their rights. It's no small feat—it's a mother of a movement!
Start or join an existing team today, create an online fundraising page and let everyone know that you're helping to make America a more equitable place and ensure that every mom and baby is healthy.
FAMILY CUP CHALLENGE
Calling all Family and Friends Teams to join us in the inaugural 2023 March for Babies: A Mother of a MovementTM Family Cup Challenge!
The inaugural Family Cup Challenge unites Family and Friends Teams in their desire to support the March of Dimes. Participating teams work together to inspire and engage others in the movement and raise funds, while also competing against each other to earn the title of the inaugural March for Babies: A Mother of a Movement Family Cup Challenge Champion!
Join us today
ABOUT THE LOCAL EVENT
---
EXPERIENCE PROGRESS* $288,975 RAISED (As of Saturday, Jun 3, 2023)
Raised: $288,975
Top fundraisers
2
Jami Savage-Gray
$7,144
4
Veer Singh Gupta
$2,902
Top family teams
2
Veer Supports March of Dimes
$5,718
4
Team Super Emmett
$2,329
Company, School & Org
1
UNITEDHEALTH GROUP - AZ
$15,597
3
AZ Change Makers
$9,517
*The total amount displayed reflects the amount on the team or personal fundraising progress bar. If the progress bar is not displayed on the team or personal page, the team/person won't be displayed on the leaderboard. Leaderboard totals reflect cash and checks marked "received" on the online sponsor form as well as credit card and PayPal donations. Team captains can enter as cash and mark "received" any money raised through promotions, such as bake sales and casual days and any sponsorship money paid to the March of Dimes, on their team's online form. Record all donations on your online sponsor form before you turn in cash and checks to the March of Dimes!
---
Meet our Ambassador Family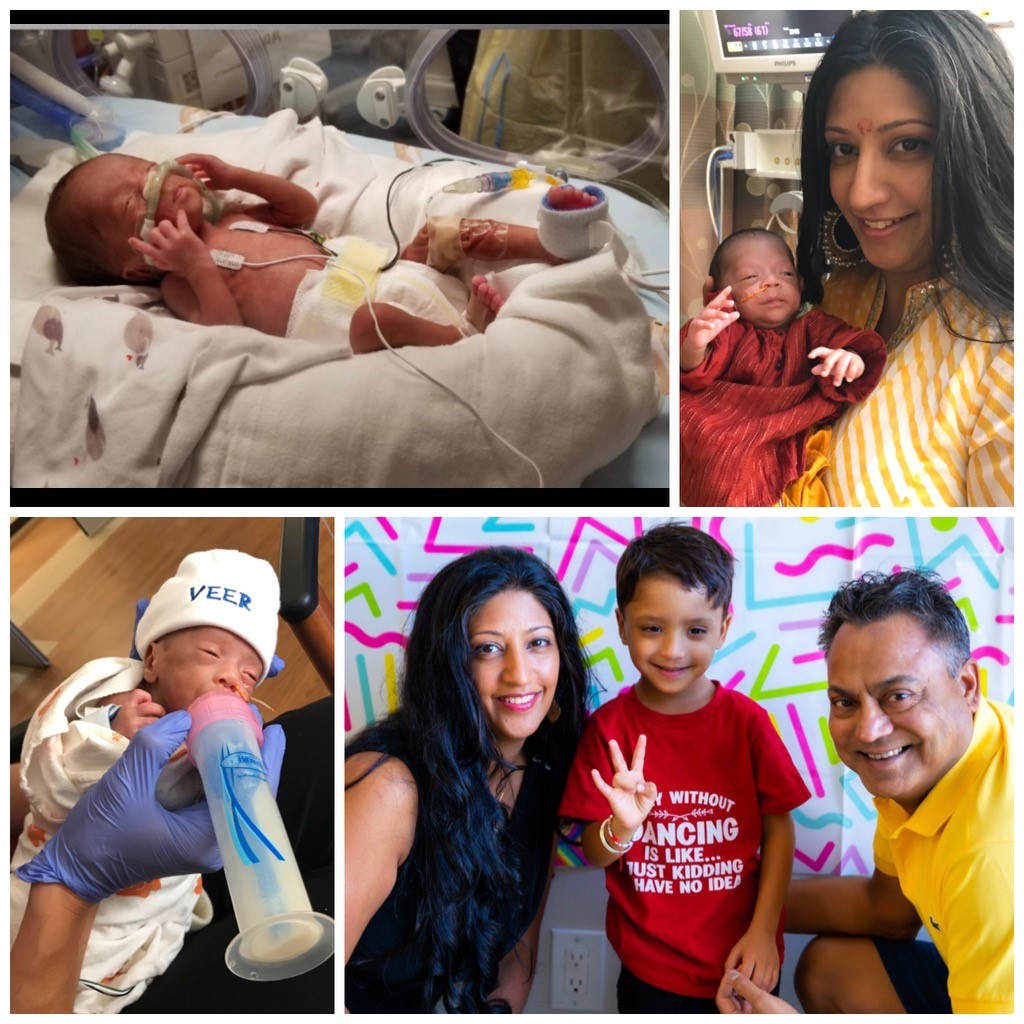 Deepa Nitin Veer
Baby Veer's Story After struggling with infertility and undergoing IVF, Deepa Walia got the news she was waiting for. She was going to be a mom. Thrilled yet cautiously optimistic, once the first trimester was over she hit a milestone. "I figured I was in the safe zone after entering the second trimester," she said. A routine doctor's visit at 27 weeks indicated something was off with her pregnancy. High blood pressure combined with protein in a lab test revealed Deepa had preeclampsia. "I was told to get myself to the hospital. When I arrived doctors were in the process of preparing the room to deliver the baby. After a few more tests, delivery was called off and I was told I'd be hospitalized until the baby was born." A steroid shot was immediately given to Deepa to help the baby's lungs develop. The goal was to get through the next 48 hours for the second dose. That didn't happen. Doctors monitored Deepa's condition with another set of tests. Results were bleak, preterm labor was imminent and a transfer to St. Joseph's Level III Neonatal Intensive Care Unit was necessary. Upon arrival, less than 24 hours later Baby Veer made his way into the world at 29 weeks, weighing one pound 11 ounces. Deepa and her husband, Nitin were overwhelmed with the chaotic birth experience attached to NICU life. After nearly three months in the NICU, Deepa and Nitin got to take Baby Veer home. He is now a feisty four-year-old living his best life. Veer's parents are forever grateful to March of Dimes research and NICU resources. "It was a source of light during our darkest hour," says Deepa.
PARTNER WITH MARCH FOR BABIES
Take steps with us to protect the health of every family today and for generations to come.
Thank you to our local sponsors
Become a partner