MARCH FOR BABIES: A MOTHER OF A MOVEMENT™
---
Greater Cincinnati/N. Kentucky

Cincinnati Virtual
Cincinnati , Cincinnati, OH 45202
---
Date: Saturday, May 08, 2021 9:30 AM
Date:
May 08, 2021
Time: 09:30 AM
Location:
Click on VISIT EXPERIENCE below for our fun virtual March for Babies experience!
Important Update
Our March for Babies celebration is still on, but it looks a little different! We are rapidly preparing for a new, virtualized event that will be fun and engaging for everyone. This change in format aligns with the newly released CDC guidance for large events, to help ensure the safety and health of our participants. More details on our new format to come soon!
Join the movement!
This year, March for Babies: A Mother of a Movement™ has a bold new vision. More than just a walk, it's your entry into making a visible difference in your community now and for generations to come.
By participating in March for Babies, you're lifting up communities for health equity, opening the door for all moms to have access to care and protecting the health of families by pushing for their rights. It's no small feat—it's a mother of a movement!
Start or join an existing team today, create an online fundraising page and let everyone know that you're helping to make America a more equitable place and ensure that every mom and baby is healthy.
For more information or to get involved, please contact Grace Rohlfs at (513) 370-5006 or [email protected].
FAMILY CUP CHALLENGE
Calling all Family and Friends Teams to join us in the inaugural 2021 March for Babies: A Mother of a MovementTM Family Cup Challenge!
The inaugural Family Cup Challenge unites Family and Friends Teams in their desire to support the March of Dimes. Participating teams work together to inspire and engage others in the movement and raise funds, while also competing against each other to earn the title of the inaugural March for Babies: A Mother of a Movement Family Cup Challenge Champion!
Join us today
---
EXPERIENCE PROGRESS* $193,447 RAISED (As of Tuesday, May 11, 2021)
Raised: $193,447
Top family teams
1
Patrick John McGeady
$27,566
2
Hanna, Allison - Cincinnati - Ryan's Team
$6,348
Company, School & Org Teams
1
Alpha Phi Alpha - Franklin-ARL
$6,851
2
CCHMC - ED/Team Golderantz
$5,027
3
GE-Supply Chain (Wickler)
$4,235
4
Sigma Gamma Rho - Epsilon Lambda Sigma
$3,398
5
Messer Construction Co. Cincinnati
$3,079
*The total amount displayed reflects the amount on the team or personal fundraising progress bar. If the progress bar is not displayed on the team or personal page, the team/person won't be displayed on the leaderboard. Leaderboard totals reflect cash and checks marked "received" on the online sponsor form as well as credit card and PayPal donations. Team captains can enter as cash and mark "received" any money raised through promotions, such as bake sales and casual days and any sponsorship money paid to the March of Dimes, on their team's online form. Record all donations on your online sponsor form before you turn in cash and checks to the March of Dimes!
TOP FUNDRAISERS
WHO INSPIRE
Congratulations to our Circle of Champions: those who raised $1,000 or more on their personal page. They're taking action for all families by raising critical funds for March of Dimes. Thank you!
---
2021 Ambassador Family The Ford Family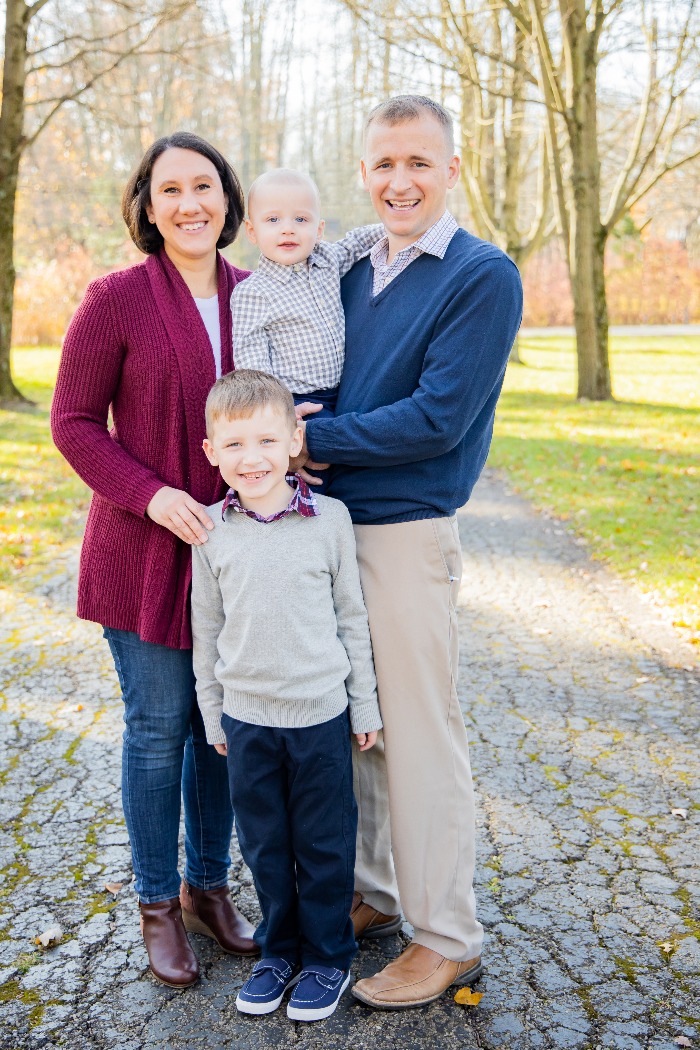 Remembering Andrew Michael Ford
This story details Andrew Michael Ford (3/30/18—3/31/18) In November 2017, we learned that we were pregnant with our second child. Everything went smoothly with the pregnancy and we even learned we were having another boy! Since my doctor advised that traveling in the 2nd trimester was low risk, I took my scheduled work trip to Arizona in early March 2018. However, during the trip, I developed severe swelling and my blood pressure was very high. Once I returned home, my swelling subsided but my blood pressure remained high. My doctor continued to monitor me and became concerned about my high blood pressure. In addition, I had protein in my urine. They had difficulty detecting the baby's heart rate at these appointments. The doctors did put me on a blood pressure medicine, which didn't seem to work very well. By March 30th, I was having difficulty feeling the baby move and I had lost weight. I checked my blood pressure at home and it was still very high. Due to these concerns, we made a doctor's appointment for later that day. At the appointment, they had trouble finding the baby on the Doppler….just like our last two appointments. The doctor seemed concerned, so they did an ultrasound. The ultrasound revealed the heartbeat was 135 bpm, but there was very little fluid around the baby, which explained why we hadn't felt movement in a while. They were concerned, sent us to a high-risk doctor, and ordered a high definition ultrasound. The ultrasound and high-risk doc showed us his growth was not as expected (measuring 23 weeks vs. the 26 week of pregnancy) and various "hydrops" or fluid buildup around the baby's heart, lungs, spine, and stomach. His heart was also working a lot harder than it should be due to the placenta working against him. The doctor said that he would no longer continue to grow inside, as he was really sick. They told us to go to straight to Good Samaritan where if the baby needed to be delivered, they have a high-risk NICU for babies born before 32 weeks. We made our way to Good Samaritan where the doctors gave us 3 options, none of which were preferable. They explained that an immediate C-section would be necessary to ensure the best possible outcome. The baby was extremely sick, and we were told he was fighting for his life. They indicated his survivor rate was very slim, so we prayed for a miracle. At 8:37 pm on Friday, March 30th, Andrew Michael Ford was born weighing 1 lb. 2 oz. Andrew was not breathing initially, but with a team of about 12 doctors/nurses, they had a breathing tube, feeding tube installed and had him stabilized by 9:00 pm. They were able to bring him over for us to see him before they transported him to the NICU. At the NICU, he was setup within his incubator and remained fairly stable throughout the evening. At 11:30 PM, Amy was able to be wheeled through the NICU to see Andrew. At 6:00 AM Saturday morning, we received a phone call to update us on Andrew's condition, as his blood pressure had been fluctuating. By 7:00 AM, they had stabilized it again. Around 8:00 AM, we received a phone call requesting our presence in the NICU. Based on x-rays, Andrew had fluid/air around his lungs that restricted his breathing and oxygen intake. His oxygen level was low, even with machines set at maximum levels. The respiratory doctor indicated the next step was surgery. They gave him 0% chance to live with or without the surgery. We asked the doctors for advice, as they indicated the procedure was very painful and would not produce a different outcome for Andrew. We decided we would keep him from as much pain as possible, and allow him to live the best quality of life possible. Andrew was baptized just before 9:00 AM. Amy and I, along with all four grandparents were able to spend the day with him. Amy and I took turns holding him for several hours on our chests. By 4:10 PM, the little guy's heartbeat faded as he passed away on March 31st. During our post-op visit and review of his autopsy, the doctor's determined this to be a case of "Early Onset Preeclampsia". Preeclampsia was the reason for my high blood pressure, swelling and additional symptoms. We march in honor of our son, Andrew, and we encourage pregnant women to listen to their bodies and attend your prenatal appointments.
Thank you to our National Partners
Thank you to our local sponsors