MARCH FOR BABIES:
A MOTHER OF A MOVEMENT™
---
Greater Cincinnati/N. Kentucky

Sawyer Point
705 E Pete Rose Way , Cincinnati, OH 45202
---
Date: Sunday, April 30, 2023 8:30 AM
Date:
April 30, 2023
Event Time: 08:30 AM
Registration Time: 8:00AM
Location:
705 E Pete Rose Way , Cincinnati, OH 45202
Sawyer Point
Important Update
Our March for Babies celebration is still on, but it looks a little different! We are rapidly preparing for a new, virtualized event that will be fun and engaging for everyone. This change in format aligns with the newly released CDC guidance for large events, to help ensure the safety and health of our participants. More details on our new format to come soon!
Join the movement!
This year, March for Babies: A Mother of a Movement™ has a bold vision. More than just a walk, it's your entry into making a visible difference in your community now and for generations to come.
By participating in March for Babies, you're lifting up communities for health equity, opening the door for all moms to have access to care and protecting the health of families by pushing for their rights. It's no small feat—it's a mother of a movement!
Start or join an existing team today, create an online fundraising page and let everyone know that you're helping to make America a more equitable place and ensure that every mom and baby is healthy.
For more information please contact Grace Rohlfs at (513) 370-5006 or [email protected].
We look forwrad to seeing you Sunday, April 30 at Sawyer Point Park! Please join us at the Kroger Promenade - right in front of the P&G Stage.
The reccomended parking locations are:
Sawyer Point Parking Lot
Eggelston Parking Lot
Heritage Bank Arena Garage
Central Riverfront Garage
For walk route & park layout, please scroll down for downloadable maps.
Volunteer Opportunities: Honor Tent Unite Tent Check Point Super Hero Sprint Connect Tent Care Tent
---
EXPERIENCE PROGRESS* $412,494 RAISED (As of Sunday, Oct 1, 2023)
Raised: $412,494
Top family teams
1
Patrick John McGeady
$32,636
3
Hanna, Allison - Cincinnati - Ryan's Team
$8,410
4
Butterflies for Ethan
$4,681
5
Andrew Michael Ford
$4,628
Company, School & Org
1
GE AEROSPACE - OH CINCINNATI
$177,338
2
ALPHA PHI ALPHA - OH
$10,602
3
CINCINNATI CHILDREN'S HOSP MED CTR
$5,426
4
MESSER CONSTRUCTION CO
$4,253
5
ZETA PHI BETA SORORITY - OH
$2,919
*The total amount displayed reflects the amount on the team or personal fundraising progress bar. If the progress bar is not displayed on the team or personal page, the team/person won't be displayed on the leaderboard. Leaderboard totals reflect cash and checks marked "received" on the online sponsor form as well as credit card and PayPal donations. Team captains can enter as cash and mark "received" any money raised through promotions, such as bake sales and casual days and any sponsorship money paid to the March of Dimes, on their team's online form. Record all donations on your online sponsor form before you turn in cash and checks to the March of Dimes!
---
The Willen Family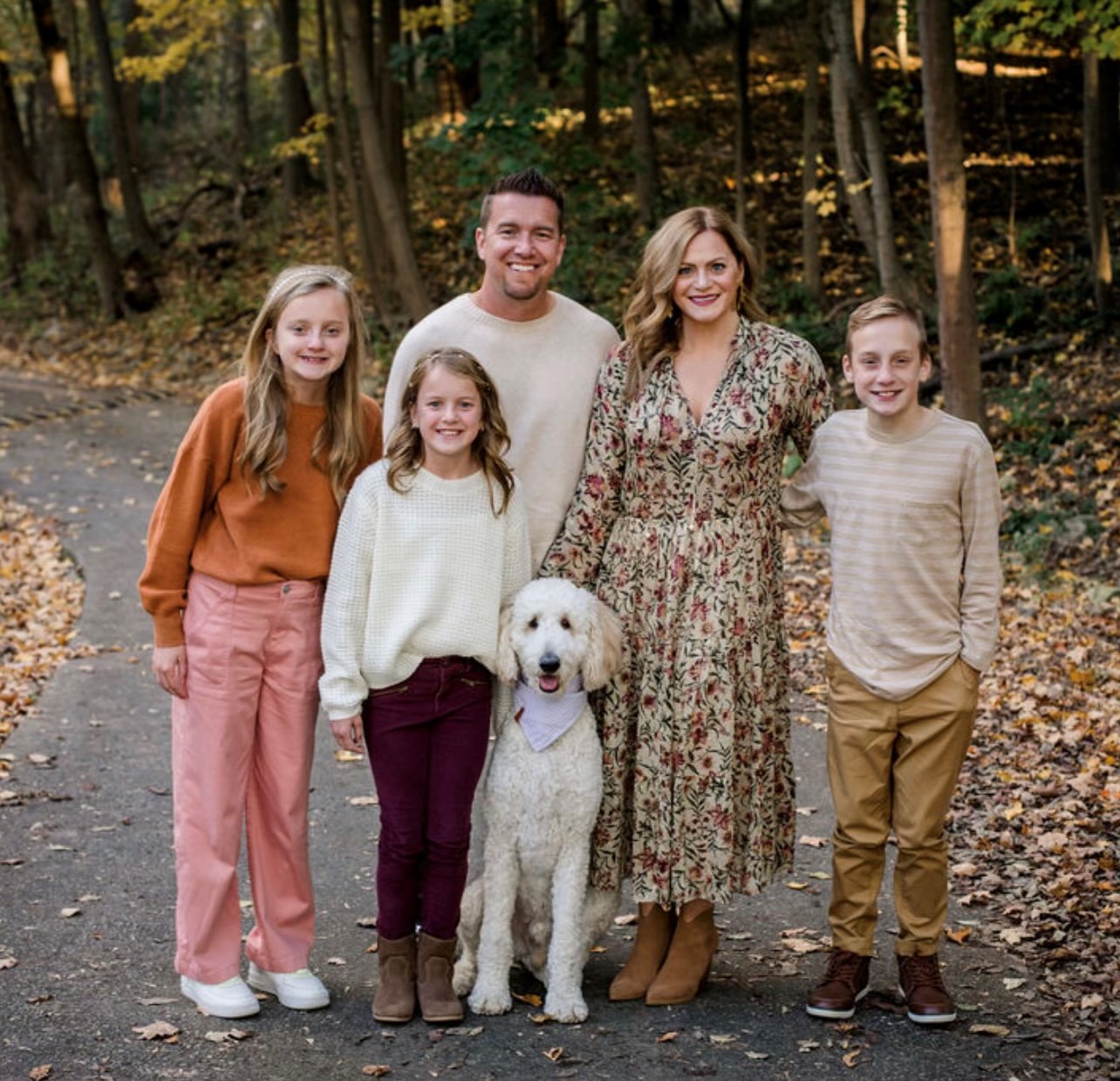 Willen Family
Because I was high-risk and carrying twins, I was under additional monitoring to continue to check the health of the babies. I was doing well but the doctors were concerned with the size of the babies, and while we expected them to be smaller, they weren't where they wanted them to be. At the beginning of December 2009, I was put on bed rest at about 24-25 weeks. The goal was to make it to full-term and do what I could to help increase their growth by resting and ensuring that we were getting proper blood flow through the umbilical cord. Once I was put on bed rest, I began weekly ob/gyn appointments and twice weekly fetal nonstress tests. For ten uneventful weeks, my sweet in-laws took me to my doc appoints every Tuesday and Thursday. I remember talking with my ob/gyn on that Tuesday, at the 34 week mark, and we talked about the steroid treatment. She had indicated there was a very specific window to administer the steroid treatment to ensure that it would be effective. I was at the end of that window and because there was absolutely no indication that I would go early, we decided not to administer the steroid. Aside from the babies being on the smaller side, we were the picture of health and everything looked good! Everything checked out well at that Thursday's appointment and we headed into the weekend. The weekend was non-eventful, which was most of the time when you're on bed rest. That Sunday evening, my husband was packing because he was headed to NFL Combine that week for work and while sitting with him, noticed some slight swelling in my ankles. It wasn't anything significant and I knew that could be normal with pregnancy, but it was a new symptom to me. I felt fine though, he left for Indy the next day and I went in for my usual ob/gyn appointment that Tuesday, February 23rd. It started out with the usual tests and checking my vitals. When Dr. Choi came in, she told me there were a couple of things that were out of the ordinary, my BP was slightly higher than normal and I had 1+ protein in my urine. She indicated that there was nothing alarming about it but something we needed to monitor more closely, as it could be the start of preeclampsia. We talked a little more, about what signs to look for and to ensure I was doing the right things at home. I felt a little uneasy about it all, it seemed to come on so quickly, and told her that when you put it all together, I just didn't feel right about it and asked if there was anything more we could do just to be sure, especially since Dan was out of town and I would be home alone if something were to happen. She said they could send me to Triage, for some monitoring so that they could track my BP a little closer and monitor the babies. So off we went to Triage! Now, at this point I was not really stressed, in no way did I think I was going to be having the babies that day. I had been in Triage before, so I knew what to expect. I figured they would monitor me for a little while and it would give me a little piece of mind or worst case, they would put me on hospital bed rest. I sent a quick text to Dan to let him know as my in-laws and I walked over to Triage. Once I got settled in, they noted that my BP was elevated, more so than what it was while I was in the doctor's office, but still nothing to cause alarm. I sent texts to my parents to let them know what was going on, not to worry, it was just for monitoring. My mother-in-law, Linda, came back to sit with me for a bit and while I laid there in that bed, my BP continued to elevate. The babies, thankfully, were doing well and did not seem to be under any distress. My BP continued to climb and it was at that time that Dr. Choi came in to tell me they had to begin preparing for an emergency c-section because my BP was too high and I was at risk for a stroke, delivering the twins would be the only way to get my BP down. My immediate concern was what this would mean for the twins and their lung development, especially because we didn't do the steroid treatment. Given that they were at 35 weeks, she said there is risk but the statistics were in their favor. This is when I started to become stressed and worried, which was not good for my BP. I had Dan on the phone to tell him and Dr. Choi took the phone from me and told Dan she made the call to deliver with enough time to get here from Indy, while driving the speed limit, but told him he needed to leave right away. He immediately left his meeting and ran to his hotel room to grab his stuff and get on the road. Linda went out to let my father-in-law, Tom, know what was going on and then he came back to see me. I called my parents and told them what was going on and they were going to head to the hospital. At this point, we had about two hours and I was doing my best to stay calm and relaxed, while the medical team began to prep for surgery. Tom was in the room with me and lots of doctors and nurses were coming in and out, checking my stats, asking question, etc. I did not know it at the time, but my BP was continuing to get higher and higher. I remember there was a nurse that came in with some paperwork that required my signature. She was explaining to me what the document was and what it said, holding it up for me to read. I took it from her and showed it to the nurse on the other side and asked her to confirm what the document said. When she asked why, I simply said, "I cannot see it." It was at this point that my BP was so high that I was seeing spots and near stroke. All this time, the babies were doing well, showing no signs of distress. The medical crew immediately went into action, ripping the cords from the wall, throwing them in to the bed with me and said, "we can't wait, we have to deliver now." My father-in-law was in shock, just as I was, and he went out to let Linda know what was happening as they took me out of the room towards pre-op. I called Dan, trying to explain what was happening and begging him to be careful. Dr. Choi once again took the phone and explained to him what was happening. It had only been about fifteen minutes since we had last called, so he was only just pulling out of the hotel in downtown Indy. I called my parents to let them know, they were rushing to get there. My in-laws met me in pre-op while we waited for them to finish preparing my OR. Once it was ready, they were about to push me through the OR doors when another medical team was running down the hall with a different emergency. Her emergency was more severe than mine, so they pulled me back and let her have the OR, taking me back to pre-op. They continued to monitor the babies and me while they prepped another OR. It was scary and nerve-racking but the silver lining was that it gave Dan and my parents a little more time to get there. My dad was the first to arrive. I was allowed one person to go back with me, so the nurses immediately started helping him into scrubs so that he could go back with me as soon as they were ready. I just remember sitting there praying. Praying for the other mom and her baby, grateful for a little more time and praying, praying so hard, that my babies would be okay and that Dan would get back safely. Shortly after my mom arrived, the OR was ready and they were taking me back. It was happening. It was happening and Dan wasn't there. My dad was in the hall waiting while they administered the epidural and got me set up. Meanwhile, my husband was not driving the speed limit. Ninety minutes from the time Dr. Choi first called to tell him we needed to deliver, when it was an emergency but not yet a life-threatening emergency, Dan made it from Indy to Cincinnati. He pulled up to the Valet at Good Sam Hospital, leaving the car running and door open, and headed straight to labor and delivery. He took the "stork" elevator straight there and was running down the hall right as they went out to get my dad. They had an extra pair of scrubs ready in case he got there in time, so right there in the hallway, outside the OR doors, my dad and two nurses helped Dan quickly get into the scrubs. I looked behind me as the OR doors opened and when I saw Dan walk in, I lost it. It was incredibly emotional; the whole operating room gave a little cheer. The OR team immediately got to work, as my BP was still extremely high. Minutes later, Ava Michelle was born at 12:43p, followed by her brother, Alexander Thomas, four minutes later. The nurses showed each of them to me over the curtain but immediately go to work to check their health. They were diligently working and I could not hear them crying, I knew something was wrong. It was then that the nurses said they were both under respiratory distress and needed to be taken to the NICU. There was no hesitation, I told Dan he had to go with them, they needed to have one of us there. Watching the nurses take my babies away, before I even had a chance to hold them, and Dan walking out with them was so incredibly hard, but I knew they were in good hands. The NICU team immediately got to work on Alex and Ava. The doctors and nurses began starting the IVs, oxygen, and heart monitoring as they continued their health assessments in the NICU. I remember feeling so helpless in that moment because I just met these two amazing babies, but there was little I could do to comfort them. Meanwhile, I knew that my wife laid in an operating room several floors above me with no way of communicating updates on our twins or how she was doing given her emergency procedure. Once the twins were stabilized, I was allowed to touch them with my mask and gloves on. I just remember telling each of them that their mommy and daddy loved them. A couple of hours seemed like an eternity. They continued to monitor me in post-op and my BP slowly came down to a safe enough level to move me to a room. On the way there, I convinced them to take me to the NICU first, to see my babies. When I got there, they were each settled in their beds, hooked up to all these monitors, IV's, oxygen. It was a lot to take in but I knew they were in good hands. We learned that they both had RDS and that the next 24 hours were critical but they fact that they were 35 weeks was good. Over the next couple of days, they had to put in and take out so many IVs, their skin was so fragile to hold them. I remember at one point, they even had to put one in Alex's head. Gaining sufficient weight was critical, so they had feeding tubes to ensure they were getting the nutrients they needed. Over the next several days, Alex's lung issues started improving and he began to turn the corner. They were able to slowly begin weaning him off the CPAP to a nose canula and then we focused on feeding. He was a little stubborn, he didn't want to eat, so trying to meet his feed goals became a challenge but his lung issues were improving. Meanwhile, Ava's lung issues quickly became worse and the IV's became more difficult to maintain. The doctors ended up having to place PICC line to ensure they could administer her medication. They then explained that Ava was not improving because she was born before her lungs made enough surfactant. Thankfully, they were able to administer Surfactant Replacement Therapy, to give her lungs what they needed begin functioning properly. We started to see some improvements with her lungs over the next couple of days. During that time, Ava began showing signs of jaundice, so they started blue-light therapy to bring up her bilirubin levels. Within a couple of days, Ava was improving. The surfactant therapy was working and we were eventually able to wean her off the CPAP and focus on feeding. Every day they were there, we were there. After the first week, Dan had to return to work. He would drop me off in the morning on his way to work and come back in the evenings, to be with them together. Ava was in the NICU for a total of 9 days and Alex was there for 13 days. Once Ava was able to rebound from the lung issues, she started taking bottles and exceeding her feed goals. Her bilirubin numbers were improving and she was gaining weight, she graduated the NICU and we got to bring her home on March 4th. Alex unfortunately, had to stay. I thought it was hard having to leave the hospital without my babies but at least they were together. Bringing one home and having to leave the other was one of the hardest things I've ever had to do. The good news, however, was that health-wise, Alex was doing great. He was still struggling to meet his feed goals. So that became our focus. I split my time between home and the hospital, trying to alternate feeds, to be there for them both. Alex finally started eating and gaining the weight, sustaining his progress, and he graduated from the NICU four days later, on March 8th. Thirteen very long days later, it was incredible to have them both home and back together. I remember, as soon as we got home with Alex, I laid them next to each other, both swaddled in their blankets, and they both rolled towards each other, nose-to-nose, so happy to be back together. We owe so much to the medical team that treated our babies, such an incredible team of doctors and nurses. We were impressed by the professionalism and the individual care that we received from our doctors and nurses. They truly went above and beyond their professional duties and we will be forever grateful for. In fact, one of the NICU nurses came to visit our twins several months later and it made us feel like we were all connected during our moment in need. And if it were not for the incredible research funded by the March of Dimes that led to the discovery of Surfactant Replacement Therapy, Ava would not have been able to receive the care she needed to survive.
PARTNER WITH MARCH FOR BABIES
Take steps with us to protect the health of every family today and for generations to come.
Become a partner