MARCH FOR BABIES:
A MOTHER OF A MOVEMENT™
---
Triad

Triad Park
9652 West Market Street , Kernersville, NC 27284
---
Date: Saturday, April 29, 2023 9:00 AM
Date:
April 29, 2023
Event Time: 09:00 AM
Registration Time: 8:45AM
Location:
9652 West Market Street , Kernersville, NC 27284
Triad Park
Important Update
Our March for Babies celebration is still on, but it looks a little different! We are rapidly preparing for a new, virtualized event that will be fun and engaging for everyone. This change in format aligns with the newly released CDC guidance for large events, to help ensure the safety and health of our participants. More details on our new format to come soon!
Join the movement!
March for Babies: A Mother of a Movement™ is more than just a walk - it's your entry into making a visible difference in your community now and for generations to come.
By participating in March for Babies, you're lifting up communities for health equity, opening the door for all moms to have access to care and protecting the health of families by pushing for their rights. It's no small feat—it's a mother of a movement!
Start or join an existing team today, create an online fundraising page and let everyone know that you're helping to make America a more equitable place and ensure that every mom and baby is healthy.
ABOUT THE LOCAL EVENT
---
EXPERIENCE PROGRESS* $186,466 RAISED (As of Sunday, Oct 1, 2023)
Raised: $186,466
Top family teams
1
Chandler Family Team
$5,525
2
Million Dollar Babies
$3,558
3
Hank & Ellis' Superheroes!
$3,000
4
Marching for Piper & Harper
$1,837
5
Caitlin's Champions
$1,004
Company, School & Org
1
ZETA PHI BETA SORORITY - NC
$18,452
2
ALPHA PHI ALPHA - NC
$15,946
3
ATRIUM HEALTH WAKE FOREST BAPTIST
$15,484
4
STATE EMPLOYEES CREDIT UNION - NC
$12,809
5
YADKIN COUNTY SCHOOLS - NC
$7,986
*The total amount displayed reflects the amount on the team or personal fundraising progress bar. If the progress bar is not displayed on the team or personal page, the team/person won't be displayed on the leaderboard. Leaderboard totals reflect cash and checks marked "received" on the online sponsor form as well as credit card and PayPal donations. Team captains can enter as cash and mark "received" any money raised through promotions, such as bake sales and casual days and any sponsorship money paid to the March of Dimes, on their team's online form. Record all donations on your online sponsor form before you turn in cash and checks to the March of Dimes!
---
2023 Triad March for Babies Ambassador Family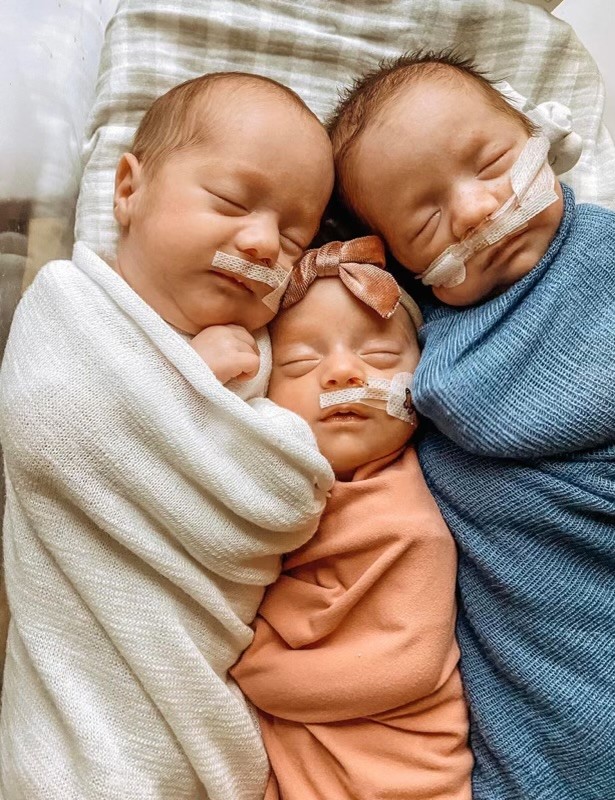 Denny Family
"In August of 2021, after years of infertility, we found out we were pregnant with quadruplets. Everything was progressing well until a little over 11 weeks, when we went in for one of our MFM appointments and found out baby D no longer had a heartbeat. That same day, we were also told babies A, B, and C had cystic hygromas. It was explained that sometimes these go away and sometimes they do not. We were told we were at risk to lose all of the babies at any time, they could be born stillborn, or they could have devastating birth defects that they would not survive. We made our 2-week follow up appointment and were told if the hygromas were going to reduce or dissipate, it would need to happen before 20 weeks, but hopefully in this 2-week window we would see improvement. We went back 2 weeks later and the hygromas had gone away! We were back to having healthy, growing babies! The pregnancy went very smoothly from that point on until November 30th, when I went in for my normal MFM ultrasound appointment to continue anatomy scans. I was told my cervix was shortening and I had the option for a cerclage. On December st, 2021 at 21 weeks pregnant, I went into the hospital for a simple procedure, with a simple recovery. The cerclage was successful, but I had a bleeding complication and contractions started. They were able to slow the contractions with magnesium via IV but the contractions couldn't be stopped. At 21 weeks, we were faced with some hard decisions if they could not get the contractions to stop. The babies would likely not survive at 21 weeks gestation, even with all of the medical interventions possible. The magnesium started to work and the contractions were kept at what the doctors felt was an acceptable level! For 54 days, I was hospitalized on strict bed rest. I also received several rounds of steroid shots for the babies' lung development through my stay since we didn't know when they would make their appearance. At 28 weeks, the magnesium was stopped. I think we all held our breath that entire day. We were all praying for my body to sustain as long as possible, hoping to make it to 30-34 weeks. At 28 weeks and 5 days, my water broke in the early morning hours for baby C. My nurse quickly sprang into action to begin monitoring everyone's heart rates. After a few hours, baby A's heart rate started to fail and they rushed me in for a C-section. At 6:45 Sloan (baby A), 6:47 Ripken (baby B), and 6:48 Rone (baby C) made their entrance into the world. I was told their Apgar scores were 8 and 9 which is what full-term singletons are typically given! Talk about a miracle! Sloan and Ripken were placed on CPAP, and Rone was intubated twice but only for a short period of time. They were otherwise very healthy for their gestational age. Sloan developed a grade 2 brain bleed that upon rescan had started to heal! Sloan spent 63 days in the NICU and Rone and Ripken 79 Days. Rone also had a successful hernia surgery in October! We will forever be thankful for Dr. Rosnes, Dr. Valores, and Dr. Lewis, as well as the countless nurses and doctors at Novant Health Forsyth Medical Center for their work in keeping the babies safe. We are so thankful God chose us to be their parents."
PARTNER WITH MARCH FOR BABIES
Take steps with us to protect the health of every family today and for generations to come.
Thank you to our local sponsors
Become a partner