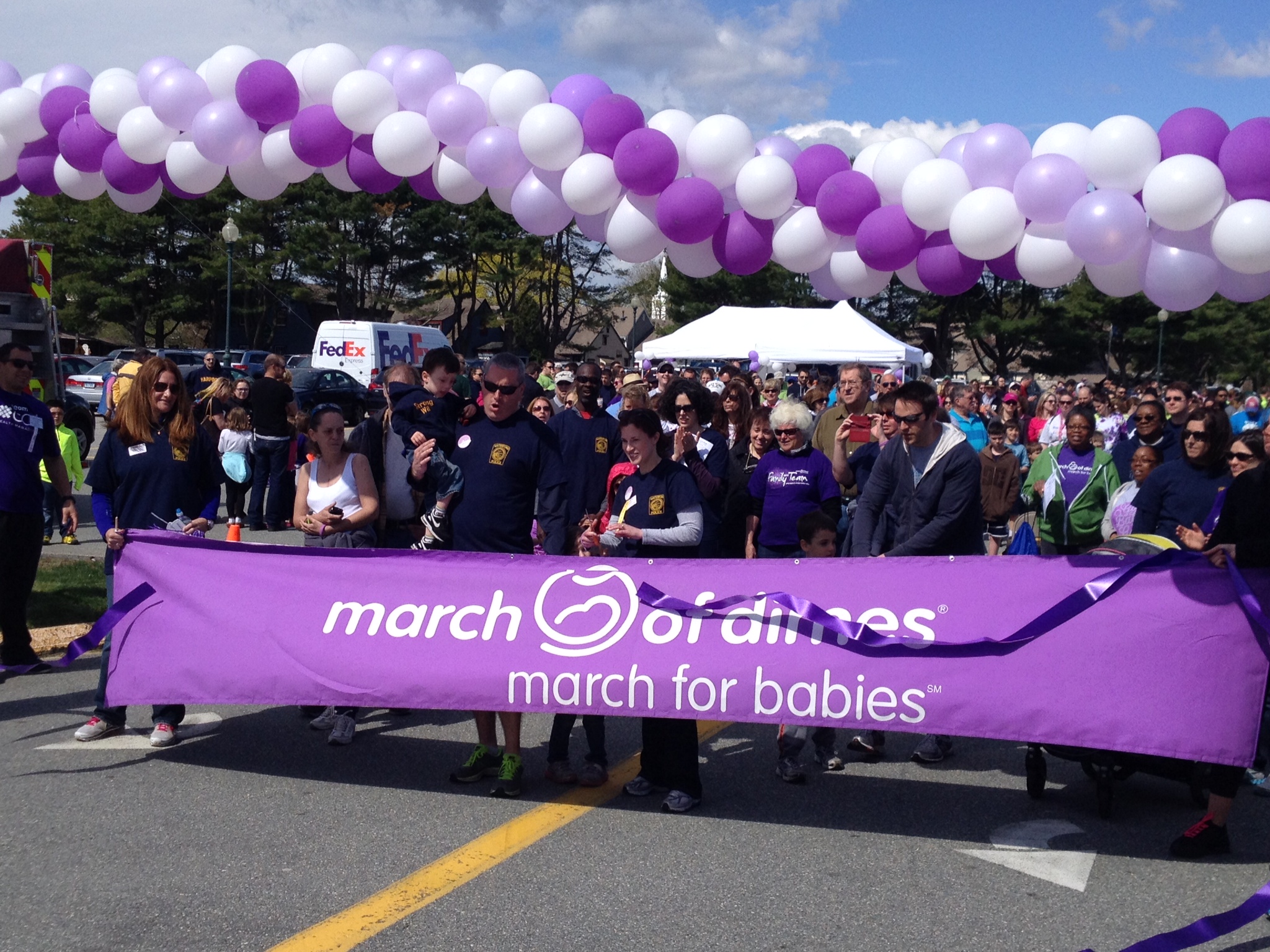 Greater Mystic
Raised to date
$96,106.58
Help us reach our goal:
$121,000.00
Date: Saturday, May 2, 2015
Registration time:
9:00AM
Olde Mistick Village
27 Coogan Blvd

Mystic, CT 06355
(860) 815-9365 | CT322@marchofdimes.org
On Saturday, May 2nd, take a trip to historic Mystic and March for Babies! Held at Olde Mistick Village (adjacent to Mystic Aquarium), you'll walk with nearly 1,000 friends and neighbors from Mystic and the surrounding shoreline communities. Help give every baby a strong and healthy start and join ...
More
►
Available documents for this event:
Make a donation
Every family deserves to celebrate the birth of a healthy baby.
Help make that happen by supporting a fundraiser or team!
Event progress *
(As of Sunday, May 24, 2015)
Top individual fundraisers
*
The total amount displayed reflects the amount on the team or personal fundraising progress bar. If the progress bar is not displayed on the team or personal page, the team/person won't be displayed on the leaderboard. Leaderboard totals reflect cash and checks marked "received" on the online sponsor form as well as credit card and PayPal donations. Team captains can enter as cash and mark "received" any money raised through promotions, such as bake sales and casual days and any sponsorship money paid to the March of Dimes, on their team's online form. Record all donations on your online sponsor form before you turn in cash and checks to the March of Dimes!
Incentives
$200.00
- March for Babies T-shirt
$350.00
- $15 Macy's or Kmart Gift Card and T-shirt
$500.00
- $25 Macy's or Kmart Gift Card and T-shirt
Our ambassador
In August of 2012, Kristi Schroder went into early labor with her son, Colton, who wasn't expected to arrive until that November. He was born at only 27 weeks gestation, weighing just 2lb. 11oz., and as a result, had to spend the next 88 days in the Neonatal Intensive Care Unit (NICU) at UCONN Health Center, where he underwent a multitude of procedures, and received surfactant therapy to help mature his tiny lungs. Kristi describes her family's NICU experience as "an uphill struggle of understanding and questions. On a daily basis, it was a roller coaster of emotions, ranging from anger, despair and fear, to optimism, relief and thankfulness." "The most overwhelming emotion is one of respect for our son, who faced daily battles, and through stubbornness and resilience, was able to pull himself through many challenging situations," she said. "The March of Dimes was a great support structure for us while we went through Colton's time in the NICU. He would not be alive today if it were not for the ongoing research that the March of Dimes does. We have wanted to get more involved in the March of Dimes and we feel this is the perfect opportunity," said Duane. Today, 2 year old Colton is doing great. He loves to play in the water, sand, and ride on toys like his car and motorcycle. The Schroder family will be speaking at, and participating in, the 2015 Greater Mystic March for Babies walk with their team "Built Colton Tough", along with hundreds of others from Southeastern CT, on Saturday, May 2nd at Olde Mistick Village.
Thanks to our national sponsors:
Thanks to our local sponsors: