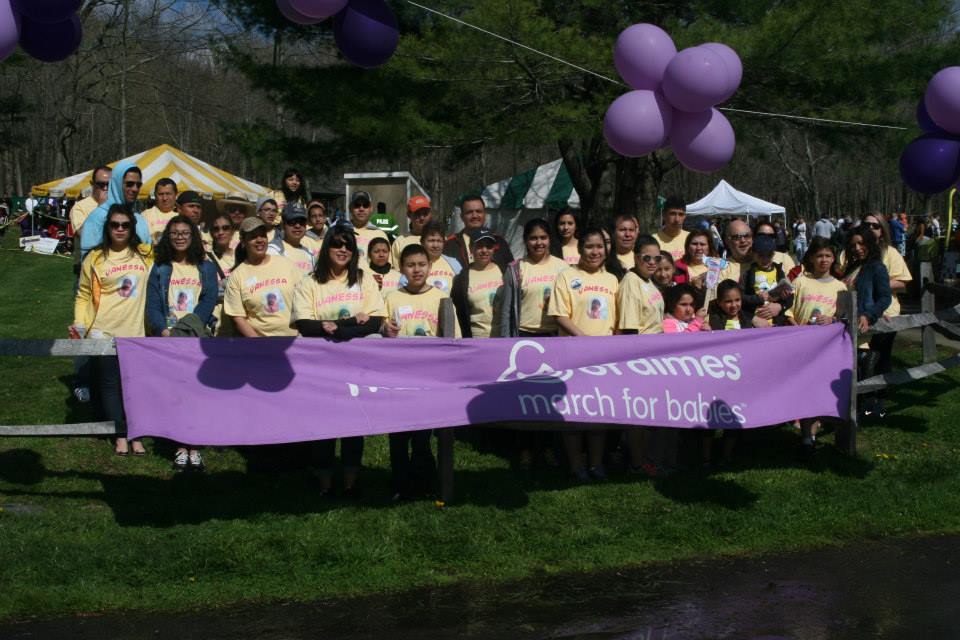 Danbury
Raised to date
$37,483.15
Help us reach our goal:
$95,000.00
Date: Sunday, April 26, 2015
Registration time:
9:00AM
Ives Concert Park-Western CT State University
43 Lake Avenue Extension

Danbury, CT 06811
(203) 692-5899 | CT322@marchofdimes.org
Join us at beautiful Ives Concert Park on the campus of Western Connecticut State University for the walk that helps give all babies a healthy start – March for Babies! More than 500 walkers from Danbury and its surrounding communities will gather to celebrate, honor and remember the precious ...
More
►
Available documents for this event:
Make a donation
Every family deserves to celebrate the birth of a healthy baby.
Help make that happen by supporting a fundraiser or team!
Event progress *
(As of Friday, May 29, 2015)
Top non-family teams
Hilton Garden Inn Danbury
Top individual fundraisers
*
The total amount displayed reflects the amount on the team or personal fundraising progress bar. If the progress bar is not displayed on the team or personal page, the team/person won't be displayed on the leaderboard. Leaderboard totals reflect cash and checks marked "received" on the online sponsor form as well as credit card and PayPal donations. Team captains can enter as cash and mark "received" any money raised through promotions, such as bake sales and casual days and any sponsorship money paid to the March of Dimes, on their team's online form. Record all donations on your online sponsor form before you turn in cash and checks to the March of Dimes!
Incentives
$200.00
- March for Babies T-shirt
$350.00
- $15 Macy's or Kmart Gift Card and T-shirt
$500.00
- $25 Macy's or Kmart Gift Card and T-shirt
Our ambassador
On Sunday, April 26th, hundreds from Danbury-area communities will gather for March for Babies at Ives Concert Park on the campus of WCSU to benefit the March of Dimes. Leading the festivities will be the event's 2015 Ambassadors, Jonathan and Kim Phillips, along with their two sons. They will share their family's prematurity journey, thank walkers for their commitment to the March of Dimes mission to give all babies a healthy start, and lead the walk with their team, "ABC Infantry." Since 2012, their March for Babies team has raised nearly $30,000. In fall of 2011, Jonathan and Kim were looking forward to the February birth of their triplets. But in October, the triplets were born far too soon, and Andrew, Bryce and Charlotte did not survive their extremely early arrival. "Their little bodies were not prepared for life outside of mine. We were forced to say goodbye much too soon," said Kim. "In sharing our story we have been comforted by too many who have been through something similar." Each year in Connecticut nearly 40,000 babies in Connecticut are born, 1 in 10 babies are born too soon, and 1 in 7 infant deaths is attributed to a birth defect. The mission of the March of Dimes is to prevent birth defects, premature birth and infant mortality through research, education, advocacy and community programs. "Scientific research has done so much to advance the chance of survival for preterm infants, yet there is still work to be done. We are confident that the March of Dimes will continue to break barriers that will provide for healthy babies and future generations," said Kim. "Andrew, Bryce and Charlotte now have two brothers, both of which were born full term and healthy. There will be four of us walking in March for Babies this year, however we will always consider ourselves a family of seven," Kim continued.
Thanks to our national sponsors:
Thanks to our local sponsors: