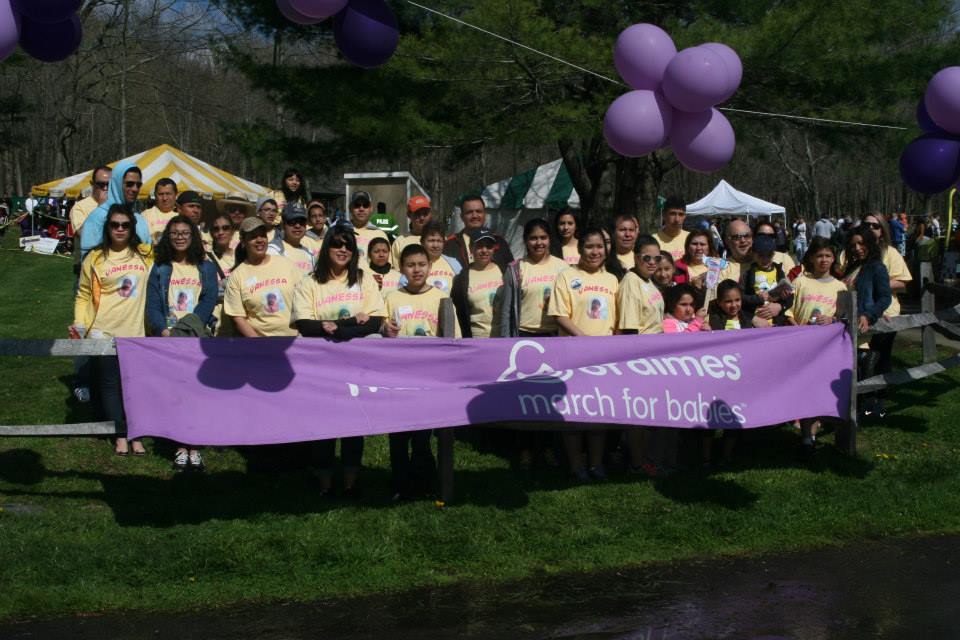 Danbury
Raised to date
$17,449.00
Help us reach our goal:
$95,000.00
Date: Sunday, April 26, 2015
Registration time:
9:00AM
Ives Concert Park-Western CT State University
43 Lake Avenue Extension

Danbury, CT 06811
(203) 692-5899 | CT322@marchofdimes.org
Join us at beautiful Ives Concert Park on the campus of Western Connecticut State University for the walk that helps give all babies a healthy start – March for Babies! More than 500 walkers from Danbury and its surrounding communities will gather to celebrate, honor and remember the precious ...
More
►
Make a donation
Every family deserves to celebrate the birth of a healthy baby.
Help make that happen by supporting a fundraiser or team!
Event progress *
(As of Thursday, April 2, 2015)
Top non-family teams
Hilton Garden Inn Danbury
Top individual fundraisers
*
The total amount displayed reflects the amount on the team or personal fundraising progress bar. If the progress bar is not displayed on the team or personal page, the team/person won't be displayed on the leaderboard. Leaderboard totals reflect cash and checks marked "received" on the online sponsor form as well as credit card and PayPal donations. Team captains can enter as cash and mark "received" any money raised through promotions, such as bake sales and casual days and any sponsorship money paid to the March of Dimes, on their team's online form. Record all donations on your online sponsor form before you turn in cash and checks to the March of Dimes!
Incentives
$200.00
- March for Babies T-shirt
$350.00
- $15 Macy's or Kmart Gift Card and T-shirt
$500.00
- $25 Macy's or Kmart Gift Card and T-shirt
Our ambassador
Born early at 25 weeks and 1 day in 2002, weighing just over 1 pound and measuring 11 inches long, Elijah Jackson spent 7 months in a newborn intensive care unit (NICU). He pulled through after surgery to close a duct between his heart and lungs, a tracheotomy and a procedure to correct reflux disease. He also received surfactant therapy, developed in part with funding from the March of Dimes, to strengthen his tiny lungs. When he left the hospital, he needed a ventilator and oxygen for 2 more years. Today, Elijah is a happy, healthy 12-year-old boy who enjoys school and is an avid sports fan. He is serving as the 2015 National Ambassador with his parents, Elise and Todd Jackson.
Thanks to our national sponsors:
Thanks to our local sponsors: