march with us
It's not fine that the U.S. is among the most dangerous developed nations in which to give birth. But together we can do something about it. When you March for Babies you stand with thousands of people across the country who share your commitment to be there for every family - those who had first-hand hardships, those celebrating their health and those just trying to start their families.
You raise funds and awareness to help us research to find solutions and advocate for policies that prioritize mom and baby health. And you enable us to expand programs like Supportive Pregnancy Care to more than 40 sites in 19 states so more women will get the support services they need.
Join us so that every mom and family can experience a healthy birth.
meet the mcbrides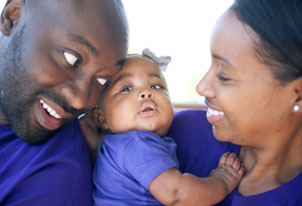 Julie and Jevon McBride welcomed their daughter Juliana Charolette Madison McBride to the world after only 25 weeks and 4 days of pregnancy. She was born weighing just 1 pound, 11 ounces. Juliana spent months in the hospital. The first 10 weeks of her life were in a NICU, before she was transferred to a second hospital for neurosurgery.
When her parents first saw their newborn daughter they were in awe at how tiny she was and how she fought to live from day one. Every day of Juliana's life in the NICU was emotional for her parents, who have shed many tears. Like most new parents, they never knew that love could be this strong.
Today Juliana is thriving, and that's thanks to people like you who march and raise money to support the pioneering research and care that saves lives. Thank you for joining the McBrides and countless others at March for Babies this year, next year and as long as it takes to help every mom and baby get the best possible start.
Take the first step now.
join us
why we're fighting for healthy families
Every year in the U.S., approximately 380,000 babies are born too soon.
Without ACA protection, maternal care would be unaffordable for most families.
Vital services for moms and babies, especially babies born sick or too soon, are at risk.