MOMS AND BABIES NEED YOU NOW MORE THAN EVER
---
NEW YORK CITY StepUp

Lincoln Center Area
65th Street , New York, NY 10023
---
Date: Wednesday, September 30, 2020 10:00 AM
Important Update
Our March for Babies celebration is still on, but it looks a little different! We are rapidly preparing for a new, virtualized event that will be fun and engaging for everyone. This change in format aligns with the newly released CDC guidance for large events, to help ensure the safety and health of our participants. More details on our new format to come soon!
March of Dimes is working harder than ever to help moms and babies and we need YOU!
Many of our March for Babies teams have recently restarted their fundraising efforts and are having success. The COVID situation in New York is stable at the moment, and spirits here are a bit higher than in the last few months..
To make up for lost time, all March for Babies fundraising through August 15 will count towards fundraising rewards.. If you have not yet activated your March for Babies team at marchforbabies.org/event/newyorkcity, you can still do so!
Thank you for all you do to support the health of all moms and babies.
Do it for babies like our new Mission Ambassador, Marley Campbell!
---
EVENT PROGRESS* - Raised: $400,886 *(As of Tuesday, Sep 22, 2020)
Raised: $400,886
Top fundraisers
1
Courtney Nataraj
$56,852
Top non-family teams
1
EY (Ernst & Young NY)
$39,551
2
Eli Manning & Family
$36,538
3
Citibank NA LIC
$20,958
*The total amount displayed reflects the amount on the team or personal fundraising progress bar. If the progress bar is not displayed on the team or personal page, the team/person won't be displayed on the leaderboard. Leaderboard totals reflect cash and checks marked "received" on the online sponsor form as well as credit card and PayPal donations. Team captains can enter as cash and mark "received" any money raised through promotions, such as bake sales and casual days and any sponsorship money paid to the March of Dimes, on their team's online form. Record all donations on your online sponsor form before you turn in cash and checks to the March of Dimes!
---
YOUTH CHAIR AND MISSION AMBASSADOR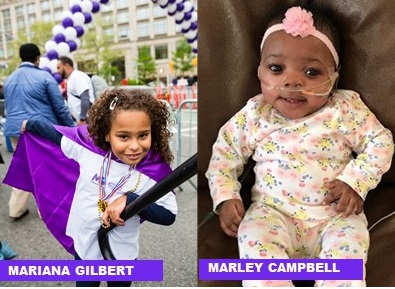 Mariana Gilbert and Marley Campbell
Mariana Gilbert is back for March for Babies 2020 serving as our Youth Chair! Mari, who is 8 years old, is a previous Mission Ambassador and Superhero Sprint Chair. Last year Mari raised over $25,000 in March for Babies – she is an inspiring young leader. Meet Marley! Marley Campbell is the 2020 March for Babies Mission Ambassador. Scroll up to read Marley's story under About March for Babies.
---
Rewards
$100
- Early Bird! "Wear Your Why" button for $100 online by 8 weeks before your event
$100
- Official March for Babies event t-shirt
$250
- March for Babies camp mug OR bamboo lunchbox + event t-shirt
$500
- March for Babies Game Day Jersey OR Game Day Stool + event t-shirt
$500
- Personalized "Why I Walk" sign displayed on the walk route
$1,000
- Champion for Babies Medal + pullover OR bluetooth speaker + event t-shirt
$2,500
- Champion for Babies Medal + duffel OR fleece + event t-shirt
$5,000
- Champion for Babies Medal + vest OR 1/2 zip shirt + event t-shirt
$7,500
- Champion for Babies Medal + rain jacket OR 2-person seat + event t-shirt
$10,000
- Champion for Babies Medal + Beats headphones OR heat vest + event t-shirt
---