MARCH FOR BABIES: A MOTHER OF A MOVEMENT™
---
Western & Central PA

Virtual
Details to be Shared , Western & Central, PA 15212
---
Date: Saturday, May 08, 2021 10:00 AM
Important Update
Our March for Babies celebration is still on, but it looks a little different! We are rapidly preparing for a new, virtualized event that will be fun and engaging for everyone. This change in format aligns with the newly released CDC guidance for large events, to help ensure the safety and health of our participants. More details on our new format to come soon!
Join the movement!
This year, March for Babies: A Mother of a Movement™ has a bold new vision. More than just a walk, it's your entry into making a visible difference in your community now and for generations to come.
By participating in March for Babies, you're lifting up communities for health equity, opening the door for all moms to have access to care and protecting the health of families by pushing for their rights. It's no small feat—it's a mother of a movement!
Start or join an existing team today, create an online fundraising page and let everyone know that you're helping to make America a more equitable place and ensure that every mom and baby is healthy.
ABOUT THE LOCAL EVENT
The March for Babies community bands together to fight for the health of all moms and babies. When you March for Babies, you make a statement about the world you want to live in - one in which healthy moms and strong babies are a priority for us all. Join more than 4,000 people at the Western and Central PA Virtual March for Babies, presented by Koppers on Saturday, May 8, 2021, and encourage your friends and family to join your team. Being part of a team is a way to celebrate, honor or remember babies with others who care.

Join the fight for the health of all moms and babies by signing up today.
For more information please contact Erica Schoenly at [email protected]
Proudly Sponsored By:

---
EXPERIENCE PROGRESS* $296,694 RAISED (As of Friday, Mar 5, 2021)
Raised: $296,694
Top fundraisers
2
Maris Bondi Dauer
$5,861
Top family teams
1
The Bricker Braves
$18,783
Top non-family teams
1
UPMC East / UPMC McKeesport
$989
*The total amount displayed reflects the amount on the team or personal fundraising progress bar. If the progress bar is not displayed on the team or personal page, the team/person won't be displayed on the leaderboard. Leaderboard totals reflect cash and checks marked "received" on the online sponsor form as well as credit card and PayPal donations. Team captains can enter as cash and mark "received" any money raised through promotions, such as bake sales and casual days and any sponsorship money paid to the March of Dimes, on their team's online form. Record all donations on your online sponsor form before you turn in cash and checks to the March of Dimes!
---
Western and Central PA Ambassador Story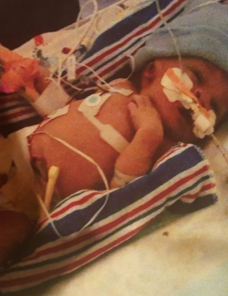 The Ricketts Family
Heather Ricketts' pregnancy with her first child was a difficult one. When her doctor found that she had low amniotic fluid on July 3, 2014, she was rushed into an emergency c-section where her son, Camden, was born. Due to his underdeveloped lungs, he was born not breathing and immediately placed on life support. He was unable to survive on his own and passed away on July 4, only one day later. It was a difficult time for Heather as she searched for answers, comfort and support. She never imagined that she would have to deal with the desolation of burying her infant baby boy. March of Dimes became a perfect platform to help her grieve and also to educate others along the way. Heather has since gone on to have two healthy children, a two-year-old daughter, Atalia, and 8 month old daughter, Zara who was born on June 5, 2020. As you can imagine, having Zara during the COVID-19 pandemic was very stressful as Heather had to adjust to the new guidelines, virtual appointments and even wearing a mask while giving birth. She has never forgotten the loss of her first child, Camden and the fear that this could happen again. The U.S. is the most dangerous country in the developed world to give birth with 2 babies dying every hour. Like Camden, 380,000 babies are born preterm each year in the United States. Babies born preterm are at an increased risk for newborn death. March of Dimes is committed to reducing this toll by funding research to find the causes of premature birth, by educating parents and clinicians about new treatments and interventions, and by providing comfort and information to grieving families. With the COVID-19 pandemic, March of Dimes supports research for COVID-19 treatments ensuring they are inclusive and safe for pregnant and lactating women and are providing resources and training for doctors and nurses in the ICU and NICU who are fighting tirelessly for moms and babies every day. Heather knows the significant role that March of Dimes research plays in deliveries each day. They hope their story can provide hope for other families and help the March of Dimes to reach the day when all babies are born strong and healthy.
Thank you to our National Partners
Thank you to our local sponsors
Become a partner