MARCH FOR BABIES:
A MOTHER OF A MOVEMENT™
---
New York City

Rockefeller Park
72 River Terrace , New York, NY 10282
---
Date: Saturday, April 30, 2022 11:00 AM
Date:
April 30, 2022
Event Time: 11:00 AM
Registration Time: 10:30AM
Location:
72 River Terrace , New York, NY 10282
Rockefeller Park
Important Update
Our March for Babies celebration is still on, but it looks a little different! We are rapidly preparing for a new, virtualized event that will be fun and engaging for everyone. This change in format aligns with the newly released CDC guidance for large events, to help ensure the safety and health of our participants. More details on our new format to come soon!
Come join us at our new downtown location at Rockefeller Park in Battery Park City! Join the movement!
This year, March for Babies: A Mother of a Movement™ has a bold vision. More than just a walk, it's your entry into making a visible difference in your community now and for generations to come.
By participating in March for Babies, you're lifting up communities for health equity, opening the door for all moms to have access to care and protecting the health of families by pushing for their rights. It's no small feat—it's a mother of a movement!
Start or join an existing team today, create an online fundraising page and let everyone know that you're helping to make America a more equitable place and ensure that every mom and baby is healthy.
---
EXPERIENCE PROGRESS* $433,155 RAISED (As of Sunday, May 22, 2022)
Raised: $433,155
Top fundraisers
1
Courtney Nataraj
$45,974
4
Mariana Gilbert
$13,844
5
Corrie Evangeliou
$11,689
Top family teams
4
Evangeliou Family
$12,225
5
Team Zimmermans
$10,896
Company, School & Org Teams
2
Corning Inc. - Specialty Materials
$18,497
3
Alpha Phi Alpha - Wall Street Alphas
$11,407
4
Zeta Phi Beta - Kappa Epsilon Zeta
$9,871
5
True North and Causal IQ
$7,664
*The total amount displayed reflects the amount on the team or personal fundraising progress bar. If the progress bar is not displayed on the team or personal page, the team/person won't be displayed on the leaderboard. Leaderboard totals reflect cash and checks marked "received" on the online sponsor form as well as credit card and PayPal donations. Team captains can enter as cash and mark "received" any money raised through promotions, such as bake sales and casual days and any sponsorship money paid to the March of Dimes, on their team's online form. Record all donations on your online sponsor form before you turn in cash and checks to the March of Dimes!
---
MISSION AMBASSADOR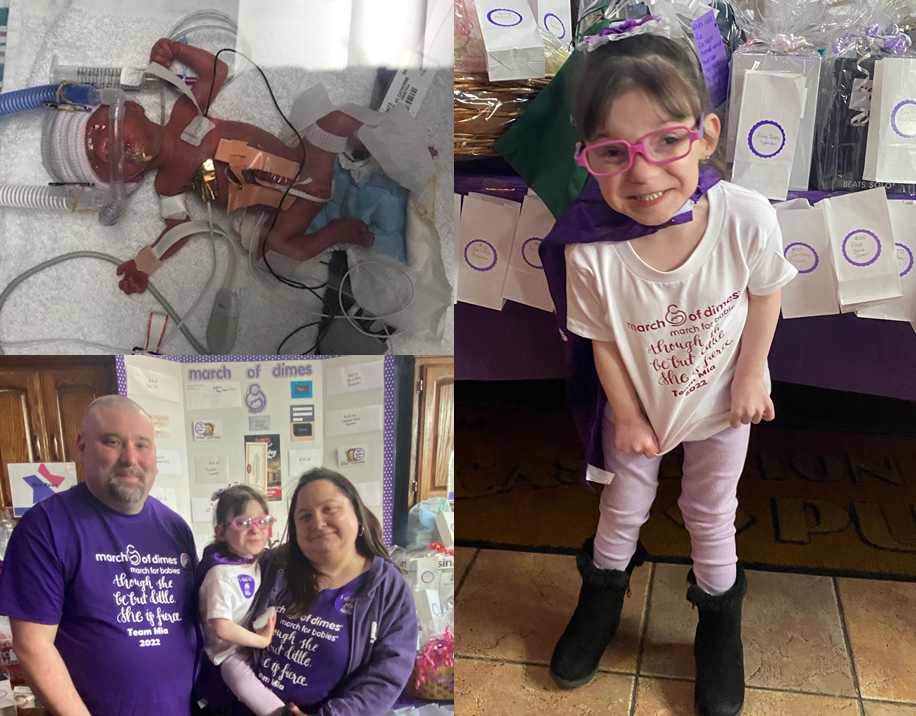 Mias Story
On August 16, 2017 my husband and I heard the news that no expectant parents want to hear. There was something wrong with Mia's growth and the doctors recommended terminating my pregnancy. We went for a second opinion at Morgan Stanley Children's Hospital where they did a number of different tests and found that my placenta had stopped providing nutrients to Mia. I was immediately hospitalized for several weeks so that they could monitor Mia. Mia's heart rate started to drop about 48 hours before she wound up being born. These hours were terrifying and we felt helpless. No parents should have to endure what we did over this time. On September 30, 2017 we were told that they would have to perform an emergency caesarean section. At this point Mia only weighed 480 grams, which is just shy of 1 pound, and had a 10% chance of survival, but the doctors said it would be safer to try to let her grow outside of the womb. The days following her birth were critical to her survival and we felt like we were on an emotional roller coaster, but we knew that she had the best medical team on her side. Mia spent 6 months in the NICU where she had countless blood tests, needles, medications, blood transfusions, a couple of crashes, 2 surgeries, and too many more setbacks to list. After the NICU Mia spent 2 months in a rehabilitation center to help her achieve the oxygen level she needed to come home. The day she was able to come home was the best day ever. Today she is thriving and is a happy, loving and silly 4-year-old.