MARCH FOR BABIES:
A MOTHER OF A MOVEMENT™
---
Lubbock

American Windmill Museum
1701 Canyon Lake Dr , Lubbock, TX 79403
---
Date: Saturday, May 06, 2023 10:00 AM
Date:
May 06, 2023
Event Time: 10:00 AM
Registration Time: 9:00AM
Location:
1701 Canyon Lake Dr , Lubbock, TX 79403
American Windmill Museum
Important Update
Our March for Babies celebration is still on, but it looks a little different! We are rapidly preparing for a new, virtualized event that will be fun and engaging for everyone. This change in format aligns with the newly released CDC guidance for large events, to help ensure the safety and health of our participants. More details on our new format to come soon!
Join the movement!
This year, March for Babies: A Mother of a Movement™ has a bold new vision. More than just a walk, it's your entry into making a visible difference in your community now and for generations to come.
By participating in March for Babies, you're lifting up communities for health equity, opening the door for all moms to have access to care and protecting the health of families by pushing for their rights. It's no small feat—it's a mother of a movement!
Start or join an existing team today, create an online fundraising page and let everyone know that you're helping to make America a more equitable place and ensure that every mom and baby is healthy.
Offering a variety of volunteer opportunities. For more information, click here.
2023 Event Chair: Jill Shanklin, Vice President, Nursing Excellence UMC Health System
Jill Shanklin is the Vice President of Nursing Excellence at UMC Health System in Lubbock, TX. She oversees the maternal-child service line, as well as Nursing Professional Development & the Magnet Designation program. Her clinical nursing background is 19 years in obstetrics with a passion for quality improvement and employee engagement. She has led numerous projects and initiatives to improve the health and safety of women and newborns including participation in State and National collaboratives to reduce maternal mortality, Level IV Maternal Designation at UMC to enhance quality maternity care, and Baby-Friendly Designation to promote success in a mother's breastfeeding journey. For the last 13 years, Jill has co-chaired the UMC team for March for Babies. March of Dimes' mission to unite, connect, honor, and care for families in the Lubbock community has been a passion and pleasure to share in. As a mother of 4, with 4 very distinct and unique birth experiences, Jill knows both personally and professionally the challenge and joy that parents face when starting or expanding their families. As chair this year, Jill is excited to highlight the exceptional work of March of Dimes and the benefit to families right here in our Lubbock community.
Additionally, 2023 marks UMC's 20th year as a March for Babies Partner, and Jill is honored represent both organizations that truly invest in the health, well-being, and protection of our tiniest citizens. "My entire career has been centered around supporting and improving not only the childbirth experience, but the lifelong wellness of our children. I am thrilled to partner with March of Dimes for the 2023 March for Babies."
ABOUT THE LOCAL EVENT
March for Babies will take place at the American Windmill Museum on May 6th, 2023. Registration will begin at 9:00 AM with the walk to begin shortly after at 10:00 AM. We will have child friendly games and activities, including our Super Hero race and so much more! Grab your friends, family, neighbors, and co-workers and come out to join us in honoring, remembering and celebrating moms and babies. We cannot wait to see you there!
For updates on the event and to follow along with families and teams follow us on Facebook @MarchofDimesWestTexas
---
EXPERIENCE PROGRESS* $156,131 RAISED (As of Sunday, Oct 1, 2023)
Raised: $156,131
Top fundraisers
5
Stephanie Rackley
$1,318
Top family teams
4
WheelChairsRoll4Babies
$1,074
5
Marching to Braxtons Beat
$741
Company, School & Org
1
COVENANT HEALTH SYSTEM - TX
$20,463
2
UNIVERSITY MEDICAL CENTER - TX
$16,481
3
SOUTHWEST BANK - TX
$9,889
4
UNITED SUPERMARKETS - LUBBOCK
$4,933
*The total amount displayed reflects the amount on the team or personal fundraising progress bar. If the progress bar is not displayed on the team or personal page, the team/person won't be displayed on the leaderboard. Leaderboard totals reflect cash and checks marked "received" on the online sponsor form as well as credit card and PayPal donations. Team captains can enter as cash and mark "received" any money raised through promotions, such as bake sales and casual days and any sponsorship money paid to the March of Dimes, on their team's online form. Record all donations on your online sponsor form before you turn in cash and checks to the March of Dimes!
---
2023 Mission Family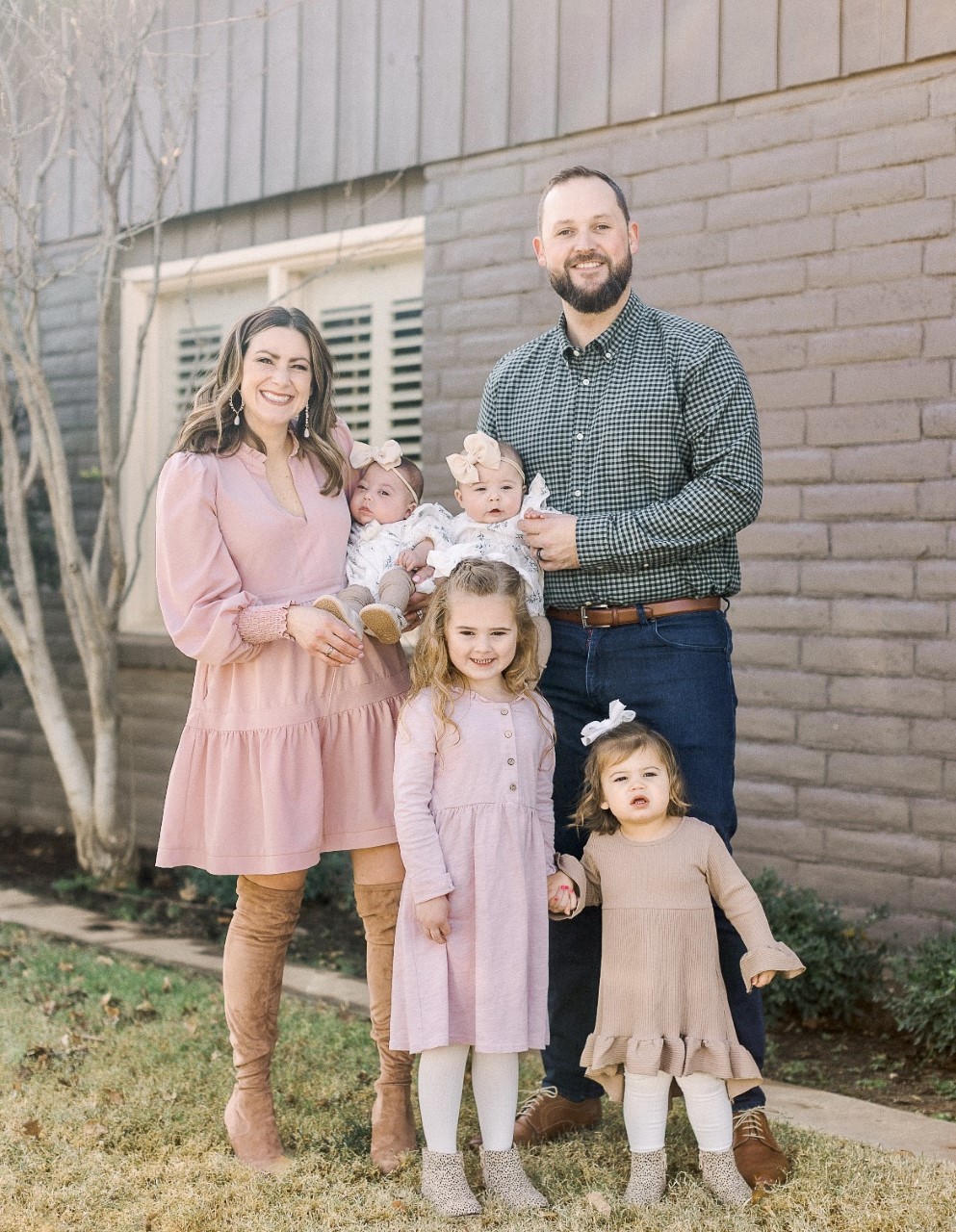 The Noble Family
Tanner and Kami Noble were born and raised right here in Lubbock, Texas, where they met in high school and fell in love. When the two decided to start trying for a family, they discovered Kami had severe endometriosis, requiring surgery and giving them a less than a ten percent chance of conception without fertility treatment. After five years, a miracle happened, and they became pregnant with their first child: Finley. In 2020, after additional surgery and two miscarriages, Kami and Tanner became pregnant with Gracie. When Gracie was nine months old, the Nobles were surprised with, not one, but two more miracles: they were having twins! Kami was considered high risk, although her pregnancy was seemingly normal, until 33 weeks. During an ultrasound, the doctor noticed a difference in the babies' size and fearing twin-to-twin transfusion syndrome (TTS) decided to induce labor. On July 22, 2021, Callie and Chloe were born, weighing 3 pounds, 6 ounces and 4 pounds, 3 ounces respectively. Both babies were taken to the NICU. After three weeks in the NICU, Chloe was able to go home. Callie remained in the NICU, undergoing multiple procedures and tests where the healthcare team discovered a rare occurrence in her brain. Callie struggled to keep her heart rate and oxygen levels stable. Meanwhile, at two and a half months after being at home for about a month, Chloe got RSV and was admitted to the PICU in the same hospital where Callie was downstairs in the NICU. On October 1, 2021, the unthinkable happened and Chloe had no heartbeat or breaths for 3 minutes. Then, miraculously Chloe was brought back to life and had normal brain function. Downstairs in the NICU, Callie received a tracheotomy and was finally stabilized to go home after 107 days in the NICU. At home, the Noble family faced new challenges of caring for a child with disabilities who needed 24/7 supervision while caring for their three other daughters. With all of the changes, the Nobles have found a new appreciation for life with their greatest blessings. Callie and Chloe are now 18 months old and both thriving. The Nobles hope that by sharing their story with the March of Dimes community, they are able to spread hope to others and connect with a community who can relate to being unrelatable.
PARTNER WITH MARCH FOR BABIES
Take steps with us to protect the health of every family today and for generations to come.
Thank you to our local sponsors
Become a partner