MARCH FOR BABIES:
A MOTHER OF A MOVEMENT™
---
Greater Bluegrass

Keeneland
4201 Versailles Rd , Lexington, KY 40510
---
Date: Sunday, May 22, 2022 1:30 PM
Date:
May 22, 2022
Event Time: 01:30 PM
Registration Time: 1:00PM
Location:
4201 Versailles Rd , Lexington, KY 40510
Keeneland
Important Update
Our March for Babies celebration is still on, but it looks a little different! We are rapidly preparing for a new, virtualized event that will be fun and engaging for everyone. This change in format aligns with the newly released CDC guidance for large events, to help ensure the safety and health of our participants. More details on our new format to come soon!
ABOUT THE LOCAL EVENT
We are so excited to see you at March for Babies this weekend. March for Babies takes place rain or shine. In the event of severe weather, and if it is unsafe to hold March for Babies, we will alert you with updates on our social media channels (Facebook and Twitter) and on your event page on marchforbabies.org.
Please check these sites on the morning of your event – we will post notices if an event will not be held. Thank you so much for all you do for moms and babies. We can't wait to see you at March for Babies!
---
EXPERIENCE PROGRESS* $123,212 RAISED (As of Monday, Aug 15, 2022)
Raised: $123,212
Top family teams
2
The Larson Strong Foundation
$3,799
3
#MollyBandfriends
$2,578
4
Team Harrison & Claire
$2,187
Company, School & Org Teams
1
Alpha Phi Alpha - Alpha Beta Lambda & Epsilon Chi
$6,542
3
KY Dentistry 4 Kids Saving the Babies
$2,500
4
Messer Construction Company
$2,427
5
Baby Steps: KCH NICU providers & friends
$2,335
*The total amount displayed reflects the amount on the team or personal fundraising progress bar. If the progress bar is not displayed on the team or personal page, the team/person won't be displayed on the leaderboard. Leaderboard totals reflect cash and checks marked "received" on the online sponsor form as well as credit card and PayPal donations. Team captains can enter as cash and mark "received" any money raised through promotions, such as bake sales and casual days and any sponsorship money paid to the March of Dimes, on their team's online form. Record all donations on your online sponsor form before you turn in cash and checks to the March of Dimes!
---
Ambassador Family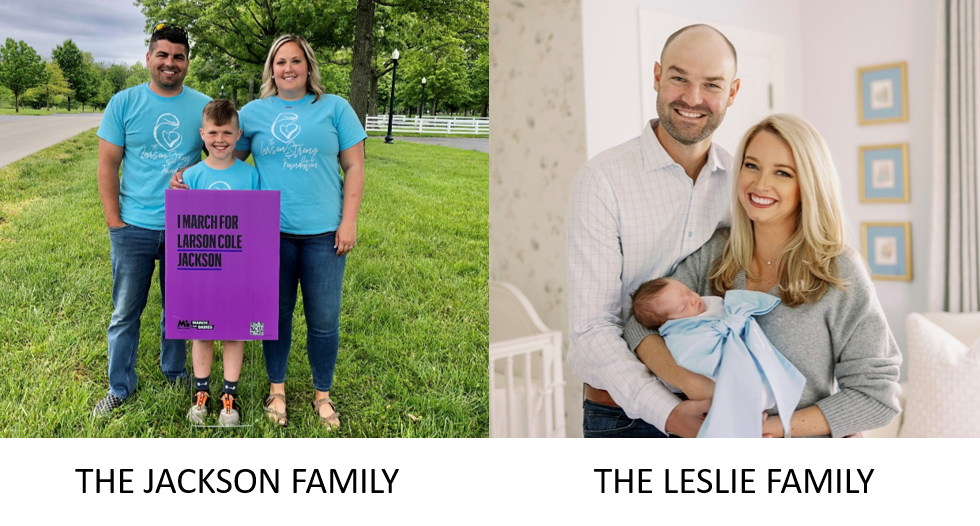 Greater Bluegrass March for Babies
The Jackson Family: Larson Cole Jackson was born on January 18th, 2021 at 24 weeks. Sadly, he passed away from being born too soon. Read the statement below from his Mom, Carrie Jackson: "I truly don't think we would have been able to get through this horrible experience without the support of the entire NICU at Kentucky Children's Hospital. This is one reason why the March of Dimes is so important to us. Having a premature baby is so difficult, no matter the outcome and March of Dimes is there to support the mom, baby, and hospital staff. We knew the second Larson was born that he was special. Everyone who saw him felt it and we knew that we wanted his short life to mean something. We wanted his life to change the world and it has. Last year we created a foundation in his name: The Larson Strong Foundation. Through this foundation we raised money for the Greater Bluegrass March for Babies, and our team was the second highest fundraising team in the region. Not only has this organization become important to my family, but it has become important to the school where I teach. This small K-12 school has given us so much help and support. We are incredibly grateful that they are joining our team again this year, so we can raise as much money for March of Dimes as possible." The Leslie Family James Leslie was born at 34 weeks gestation, and spent several weeks in the NICU at Baptist Health Lexington. Read the statement below written by his Mom, Sammy Leslie: "Seeing our baby being rushed to the NICU was the scariest moment of our lives but we left the NICU feeling like we had gained family. Every pregnancy is at risk of a potential unforeseen medical crisis and this experience reminded us that our community is made up of good, kind people that can be relied upon if that time does come. March of Dimes raises the funding and awareness necessary to provide babies like James the best shot at a healthy happy life. We are so grateful to March of Dimes for assisting hospitals like Baptist Health in providing the best care possible to moms and their babies. How lucky we are to live in a world where humans value helping one another."
THANK YOU TO OUR PARTNERS
Thank you to our local sponsors
Media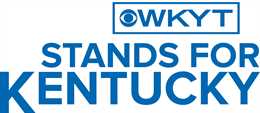 Become a partner