March for Babies: A Mother of a Movement™
Our country is facing an urgent maternal and infant health crisis. The U.S. remains among the most dangerous developed nations for childbirth, especially for women and babies of color. Together we need to UNITE, CONNECT, HONOR and CARE for families now.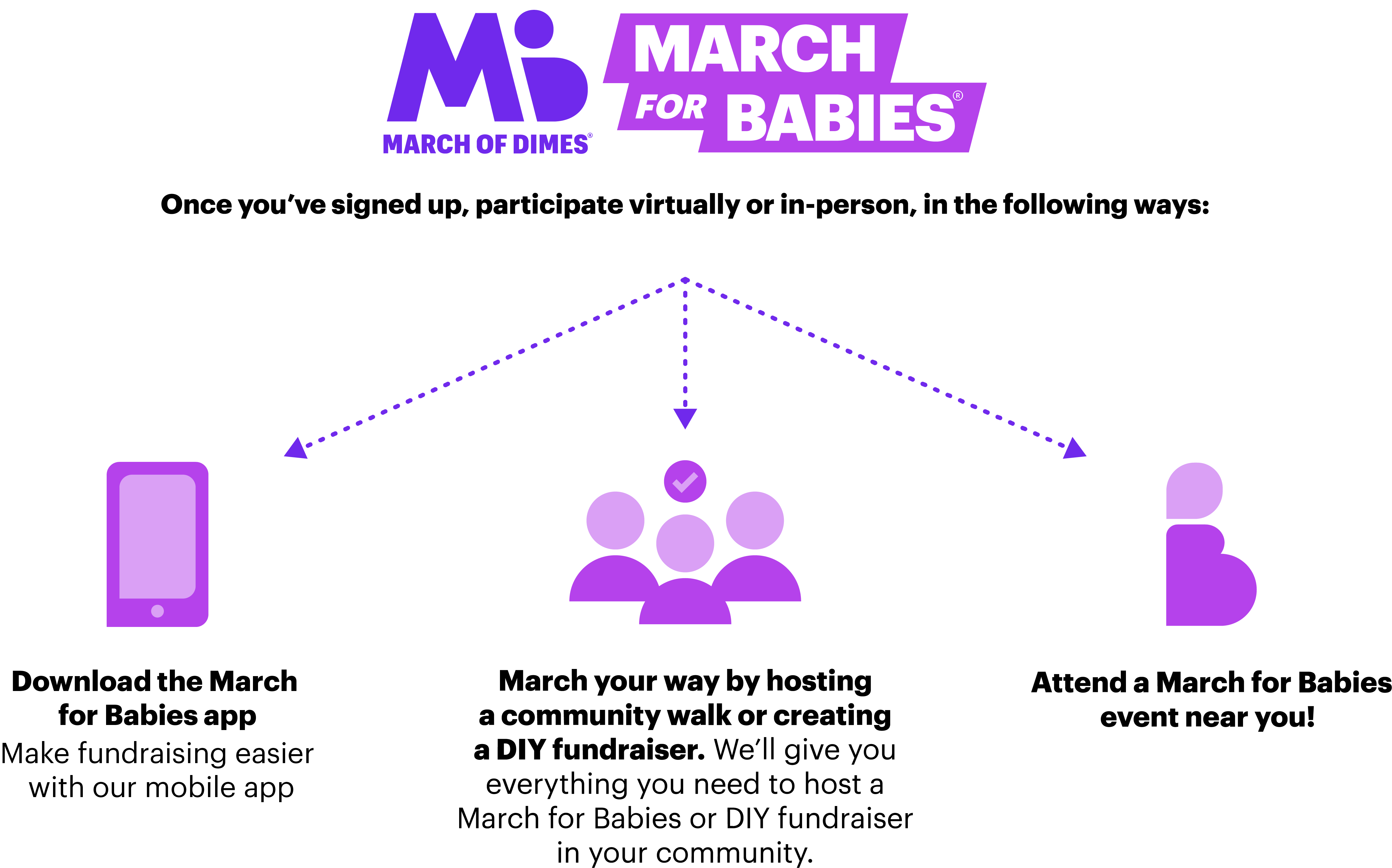 Download the March for Babies app
Make fundraising easier with our mobile app
March your way by hosting a community work or creating a DIY fundraiser. We'll give you everything you need to host a March for Babies or DIY fundraiser in your community.
Attend a March for Babies event near you!
Together we'll fight to improve maternal and infant health, and ensure that every mom and baby gets the best possible start.
Register now
March for Babies: A Mother of a Movement™ is your chance to step up to make a real difference in your community now and for generations to come.
By joining us in this movmement:
YOU'RE
UNITING
for health equity, opening the door for all moms to have access to care and protecting the health of families by advocating for their rights.
YOU'RE
CONNECTING
year-round through customized challenges and team building activities that engage employees, families and friends who want moms and babies to be healthy and strong.
YOU'RE
HONORING
motherhood, babies and those who've experienced loss by staying active and creating change.
YOU'RE
CARING
for all families throughout their pregnancy—whether it goes as planned or has unexpected challenges—by raising critical funds, so moms and babies get the best possible start.
WHY WE FIGHT FOR HEALTHY FAMILIES
Each year in the U.S., approximately 380,000 babies are born preterm.
Without equitable access to health care, we can't ensure healthy pregnancy outcomes for families.
Vital services to help moms and babies be healthy and strong are needed more than ever.