MARCH FOR BABIES: A MOTHER OF A MOVEMENT™
---
Central Alabama

Baptist Health DeBoer Building
301 Brown Springs Road , Montgomery, AL 36117
---
Date: Saturday, May 08, 2021 8:00 AM
Date:
May 08, 2021
Time: 08:00 AM
Location:
Click on VISIT EXPERIENCE below for our fun virtual March for Babies experience!
Important Update
Our March for Babies celebration is still on, but it looks a little different! We are rapidly preparing for a new, virtualized event that will be fun and engaging for everyone. This change in format aligns with the newly released CDC guidance for large events, to help ensure the safety and health of our participants. More details on our new format to come soon!
Join the movement!
This year, March for Babies: A Mother of a Movement™ has a bold new vision. More than just a walk, it's your entry into making a visible difference in your community now and for generations to come.
By participating in March for Babies, you're lifting up communities for health equity, opening the door for all moms to have access to care and protecting the health of families by pushing for their rights. It's no small feat—it's a mother of a movement!
Start or join an existing team today, create an online fundraising page and let everyone know that you're helping to make America a more equitable place and ensure that every mom and baby is healthy.
FAMILY CUP CHALLENGE
Calling all Family and Friends Teams to join us in the inaugural 2021 March for Babies: A Mother of a MovementTM Family Cup Challenge!
The inaugural Family Cup Challenge unites Family and Friends Teams in their desire to support the March of Dimes. Participating teams work together to inspire and engage others in the movement and raise funds, while also competing against each other to earn the title of the inaugural March for Babies: A Mother of a Movement Family Cup Challenge Champion!
Join us today
---
EXPERIENCE PROGRESS* $81,621 RAISED (As of Monday, Jul 26, 2021)
Raised: $81,621
Top fundraisers
2
Chris and Amanda Hagen
$3,491
5
Adrienne Washington
$1,466
Top family teams
1
Team Aaron Hagen
$3,491
2
Parents with a Purpose for Preemies
$2,051
5
Clinical Informatics
$551
Company, School & Org Teams
2
Alpha Phi Alpha - Alpha Nu Lambda
$2,810
3
Zeta Phi Beta - Alpha Rho Zeta
$1,769
4
Alpha Phi Alpha - Alpha Upsilon Lambda
$1,668
5
Sigma Gamma Rho - Beta Sigma
$1,300
*The total amount displayed reflects the amount on the team or personal fundraising progress bar. If the progress bar is not displayed on the team or personal page, the team/person won't be displayed on the leaderboard. Leaderboard totals reflect cash and checks marked "received" on the online sponsor form as well as credit card and PayPal donations. Team captains can enter as cash and mark "received" any money raised through promotions, such as bake sales and casual days and any sponsorship money paid to the March of Dimes, on their team's online form. Record all donations on your online sponsor form before you turn in cash and checks to the March of Dimes!
TOP FUNDRAISERS
WHO INSPIRE
Congratulations to our Circle of Champions: those who raised $1,000 or more on their personal page. They're taking action for all families by raising critical funds for March of Dimes. Thank you!
---
Ambassador Family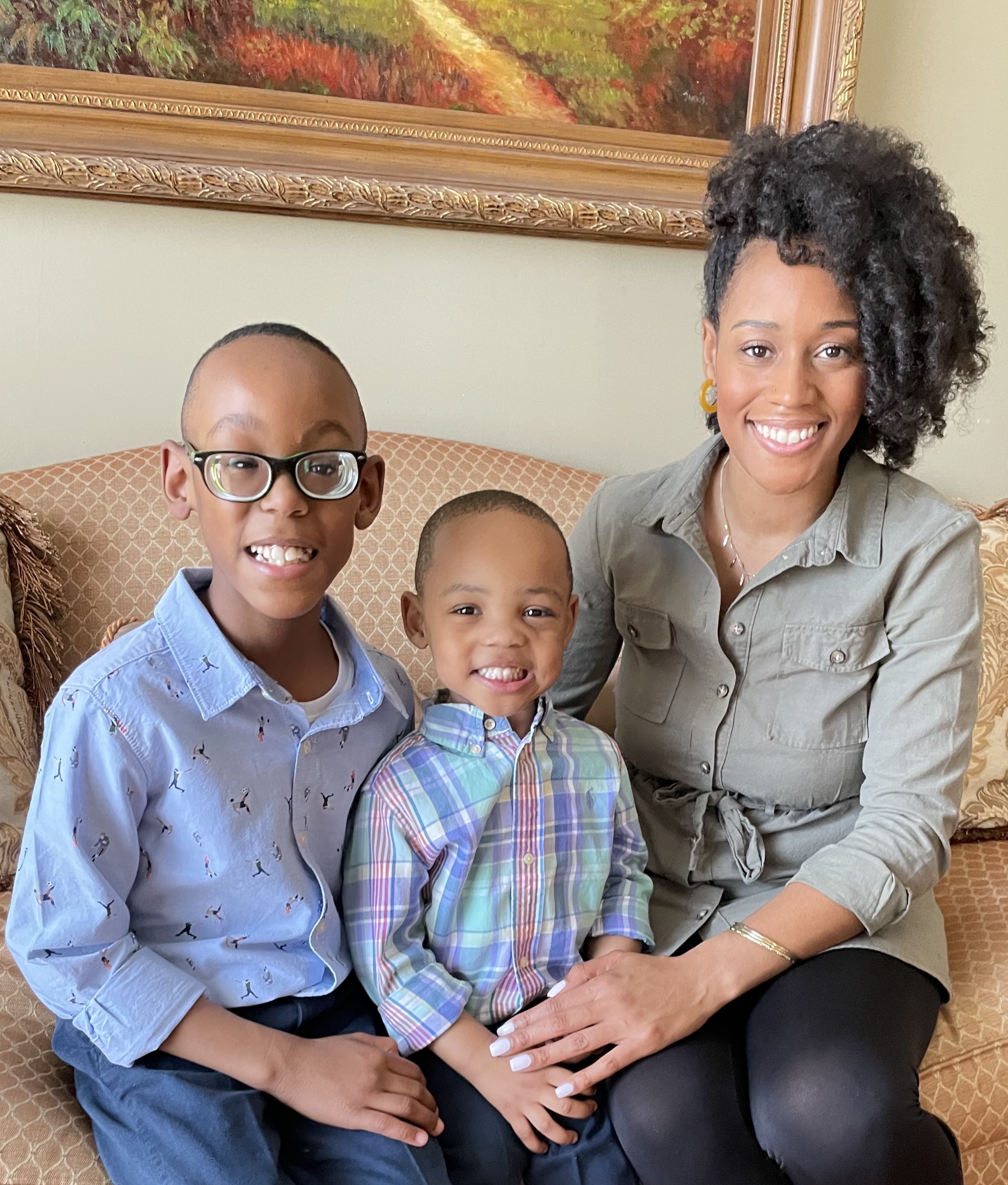 The Washington Family
The Washington's story begins May 2012. Adrienne was around 19 weeks pregnant, and found herself in the ER for stomach pains. The doctors checked & assured her that the pains were normal "growing pains". When the pains began again just a few weeks later, she was not alarmed; she assumed it was again "growing pains". She continued to go about her day and dealt with the pain but eventually decided to lay in bed and rest. She told herself that if the pain was still present in the morning she would go to the ER. The morning came and the pain had become more unbearable. Adrienne arrived at the ER and was immediately taken into labor and delivery. Her water broke and the doctors told her it was time to push. Adrienne was very confused; it was months away from her due date. Fifteen minutes after she arrived, Logan was born weighing 1 lb. 6 oz. at only 23 ½ weeks into her pregnancy, nearly 17 weeks too soon. As soon as Logan was born, Adrienne was not able to see or hold her son as he was whisked away and the nurses immediately began to work to save his life. After they stabilized Logan, they left the room with him, and Adrienne was taken off to surgery. When she awoke from surgery, she was informed that Logan had been transported to a different hospital, which had a NICU that was more equipped to care for a premature baby of his size. For the next three days, Adrienne was separated from Logan as she recovered from delivery. During these days, she was only able to see pictures of her son and received information about his health from the nurses through phone calls. She felt helpless. It was not until Adrienne was released from the hospital, that she was finally able to meet her son. The first time she laid eyes on her son, she was brought to tears. He was so small and was connected to so many machines, needles and monitors. The doctors informed her that Logan had a 50% chance of survival. Adrienne was told that 25 weeks was viable age for most premature babies and that it could get bad, really quick. Because of her faith, she knew Logan would be the 50% of premature babies that would survive. She knew the odds were against him and the doctors were very transparent with the possibilities, however she never doubted Logan would pull through. Logan was born so early that he had severely underdeveloped lungs and his hands as well as feet were still webbed together. Logan was so premature that the doctors were afraid to move him for the first 7 days for fear of causing a brain bleed. During those first days, Logan laid on his back, on top of a bilirubin light for phototherapy. On day 8, the staff turned Logan over to his stomach and discovered that because his skin was so thin and frail; the bilirubin light had burned his back. Logan received treatment for his burn, but as a result, developed infections. Logan faced many challenges during his NICU stay – brain bleeds, seizures, even coding - continued to improve and overcome every obstacle he faced. On August 10th, after 62 days, the ventilator was removed and Logan placed on a CPAP machine to support his breathing. However, due to requiring the ventilator, Logan developed retinopathy of prematurity and required surgery on both of his eyes to prevent the possibility of blindness. Logan handled the surgery well but continued to face many setbacks during his 123 day stay in the NICU. Logan turns nine in June and enjoys being an active boy. He loves to read, is a green belt in Taekwondo, enjoys playing the Piano as well as video games. Adrienne's second pregnancy was treated very differently. During an early OB appointment, she was informed that due to her history, this pregnancy would be labeled as high-risk. Around 25 weeks, she began to notice swelling in her feet and hands. Her OB suggested that she should drink more water and try to keep her legs elevated. This seemed to help, and the swelling did reduce. Around 29 weeks, Adrienne began to swell more than before. Elevating her legs and drinking water did not help so she went in for a checkup. During this appointment, Adrienne was asked to head to the hospital for observation. Once admitted, Adrienne was diagnosed with Pre-Eclampsia and was told that she would not be leaving the hospital until she delivered. Her goal was to stay under observation until at least 35 weeks. At 32 weeks, Adrienne's blood pressure became dangerously high and labor was induced. Langston was born weighing 4lbs. 3 oz. and once again, taken to the NICU. Langston's NICU journey was quite the opposite of his big brothers. Langston did not require much breathing support nor did he have to undergo any surgeries however, he did face a few challenges himself such as jaundice, weight gain, and weight loss. After 22 days in the NICU, Langston was able to go home. He turns three this June and has no signs of his premature birth.
Thank you to our National Partners
Thank you to our local sponsors