MARCH FOR BABIES:
A MOTHER OF A MOVEMENT™
---
Greater Birmingham

Railroad Park
1600 1st Ave. S. , Birmingham, AL 35233
---
Date: Saturday, April 29, 2023 9:30 AM
Date:
April 29, 2023
Event Time: 09:30 AM
Registration Time: 8:30AM
Location:
1600 1st Ave. S. , Birmingham, AL 35233
Railroad Park
Important Update
Our March for Babies celebration is still on, but it looks a little different! We are rapidly preparing for a new, virtualized event that will be fun and engaging for everyone. This change in format aligns with the newly released CDC guidance for large events, to help ensure the safety and health of our participants. More details on our new format to come soon!
Join the movement!
March for Babies is more than just a walk, it's your entry into making a visible difference in your community now and for generations to come.
By participating in March for Babies, you're lifting up communities for health equity, opening the door for all moms to have access to care and protecting the health of families by pushing for their rights. It's no small feat—it's a mother of a movement!
Start or join an existing team today, create an online fundraising page and let everyone know that you're helping to make Alabama and America a more equitable place and ensure that every baby can be born healthy.
ABOUT THE LOCAL EVENT
THANK YOU to everyone who came out to Railroad Park on Saturday, April 29th for March for Babies! Our 2023 Chair, Circe Starks of Southern Power, Beckett Yeackle, our 2023 Ambassador, and thousands of members of our community joined together for the health of all moms, babies and families! We can't wait to come together with all of you again in 2024!
If you still have funds to turn in, remember to convert all cash and coins to checks prior to turning in fundraising. All checks should be made payable to MARCH OF DIMES and can be send to: March of Dimes, 3500 Blue Lake Drive, Suite 198, Birmingham, AL 35243.
For more information contact Dee Grisham at [email protected] or (205) 588-0510.
---
EXPERIENCE PROGRESS* $387,044 RAISED (As of Sunday, Oct 1, 2023)
Raised: $387,044
Top family teams
2
Charlie & Sophia
$3,145
Company, School & Org
1
SOUTHERN COMPANY SERVICES
$23,012
2
ZETA PHI BETA SORORITY - AL
$17,731
3
ALPHA KAPPA ALPHA - AL
$9,933
4
UAB HEALTH SYSTEM
$7,338
5
HOAR CONSTRUCTION, LLC
$5,947
*The total amount displayed reflects the amount on the team or personal fundraising progress bar. If the progress bar is not displayed on the team or personal page, the team/person won't be displayed on the leaderboard. Leaderboard totals reflect cash and checks marked "received" on the online sponsor form as well as credit card and PayPal donations. Team captains can enter as cash and mark "received" any money raised through promotions, such as bake sales and casual days and any sponsorship money paid to the March of Dimes, on their team's online form. Record all donations on your online sponsor form before you turn in cash and checks to the March of Dimes!
---
Meet Beckett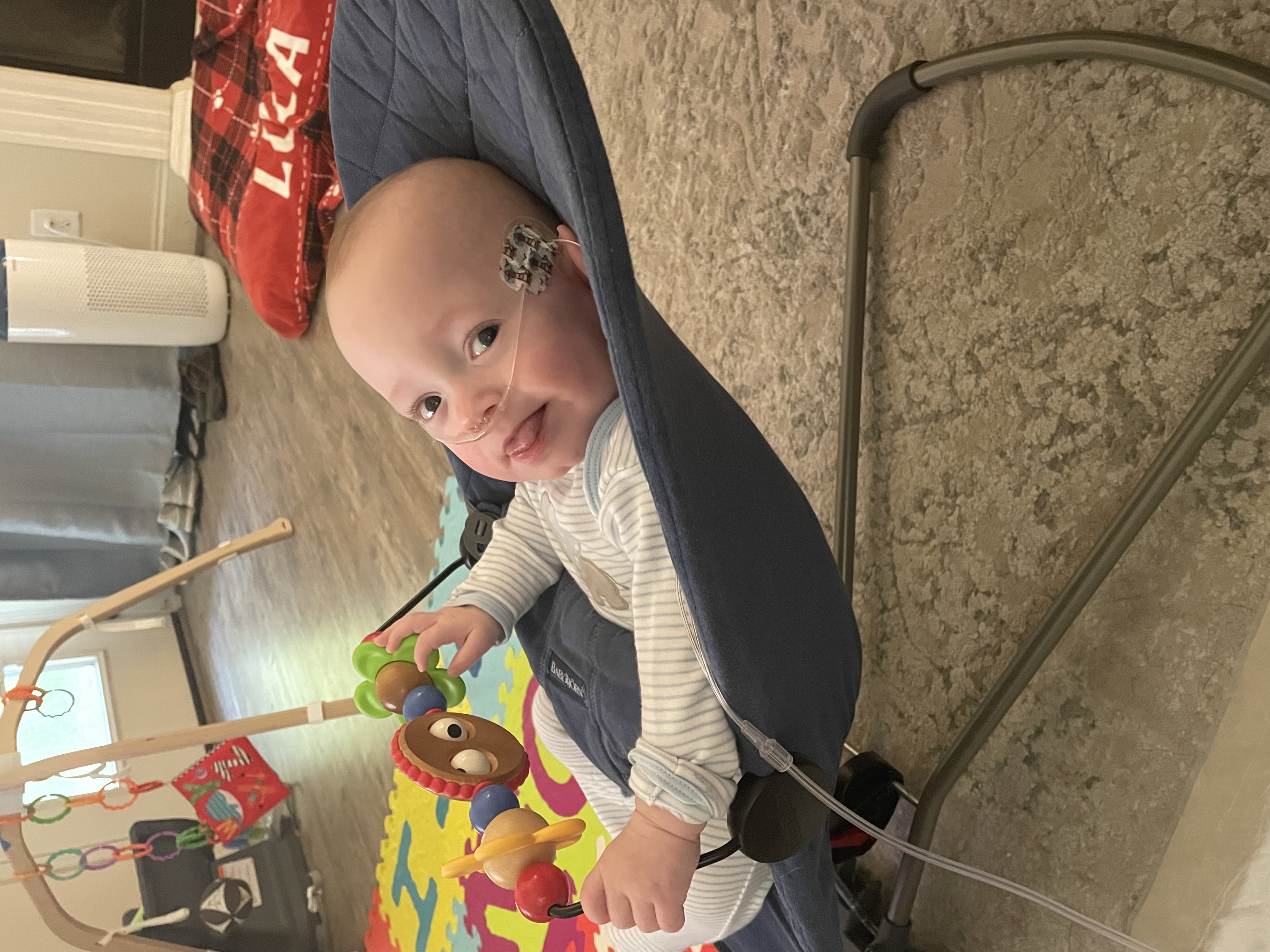 Beckett Yeackle
On April 21st, 2021 Josh and Meg Yeackle found out that they were pregnant. They had been married for 3 months and were elated. On May 20th they had their first scan and got an estimated due date of December 31st – a New Year's Baby! They joked that they hoped he came on time so they would get the tax break. On July 3rd they discovered they were having a boy. They were so excited to get ready for our baby, Beckett. They thought they had months and months ahead to prepare, but Beckett had different plans. On August 12th at 19 weeks 3 days gestation, Meg and Josh went to their OB appointment excited to have the anatomy scan. The ultrasound tech confirmed it was a boy and printed out some pictures for them. Meg vividly remembers seeing his sweet little nose and his whole foot captured in one of the photographs. He was perfect. His heart was strong and he was so active. After the ultrasound, they went to speak with their doctor. They were ready to ask questions about delivery, cord clamping, the "golden hour", all the things that they had read about. The second that she entered the room, they knew something wasn't right. They were told that Beckett was measuring in the less than first percentile, and that Meg's placenta was misshapen (globular) and very small. Instead of talking about their future delivery, they were speculating about genetic conditions. They were wondering if Beckett was even going to make it long enough to be born. They were referred to maternal-fetal medicine to get a better idea of what to expect. The problem there was, maternal-fetal medicine wouldn't see them closer to 22 weeks, which is what is considered viability. Meg and Josh said that time had never passed so slowly. At 21 weeks 3 days, they went to see the MFM doctor, where they had a doppler scan to check blood flow and another anatomy scan. Following it, the doctor came in and told them that in a room of one hundred babies, Beckett would be the smallest by far: 0.03% in size. The blood flow from the placenta to Beckett wasn't great, the amniotic fluid was low, and he was nearly a week behind in growth. Anatomically, he looked normal, so we had that little blessing to ease our minds. I was told to keep my stress levels low, so I had to stop working. That was probably the most comical thing about it. "Your baby is in trouble, we can't give you a reason why, but please stay calm!" Best case scenario, they thought they would make it to 27 weeks. Best case scenario. At 24 weeks gestation, Meg received her first dose of steroids. Every appointment they had a bag packed, ready to be told they were having a baby. They went once per week for about 3 weeks until the blood flow from the umbilical line went into intermittent absent flow. At 26 weeks 6 days gestation, Meg was admitted into labor and delivery for persistent absent flow and decreased fetal movement. She was given another round of steroids for lung development and started a 12-hour magnesium drip to cushion Beckett's brain and help prevent brain bleeds. Three days later she was taken to the operating room to have a C-section. At 27 weeks 1 day, on October 2, 2021 at 8:55 a.m. Beckett was born. Meg remembers being so grateful that he weighed more than a pound. She had prayed and begged for grams and ounces while he grew inside of her. Surpassing 500 grams was going to make the biggest difference, because the NICU could work with 500 grams. Beckett only weighed 555 grams, but that felt huge. He did it. He made a little cry when he was born, and he had a frown on his face like he was unhappy for removing him from his cozy quarters. He had to come, though. He had work to do. He had been working hard since the placenta was formed. Meg said he favorite metaphor for Beckett in utero was that he was trying to drink a milkshake through a coffee stirrer. He had to pull so hard to get the bare minimum. There wasn't enough. As he grew, the small amount he was getting became less and less suitable for growth. "It is a wild thing to hear that your baby will grow better on the outside than the inside. We never even reached the third trimester," she said. The first three days in the NICU, Beckett gave Meg and Josh a great honeymoon. His saturation and other levels were good and he was doing well on the traditional vent. Then the honeymoon period ended, and he went into respiratory distress. He was switched from a traditional ventilator to a jet ventilator, which pushed in 400+ breaths per minute at a lower pressure to minimize lung trauma while still giving adequate oxygen. On the traditional vent, the pressures required to keep his saturation up could have been detrimental. After 19 long days, she was finally able to hold her baby. She spent 19 days staring at him through holes in plastic, wearing gloves and touching him however and whenever I was allowed. Let that sink in: whenever she was 'allowed' to touch her baby. She couldn't smell him or kiss him. She couldn't kiss him at all for t
PARTNER WITH MARCH FOR BABIES
Take steps with us to protect the health of every family today and for generations to come.
Thank you to our local sponsors
Become a partner