MARCH FOR BABIES:
A MOTHER OF A MOVEMENT™
---
Greater Arizona

Chase Field
401 E. Jefferson St , Phoenix, AZ 85004
---
Date: Sunday, April 30, 2023 9:30 AM
Date:
April 30, 2023
Event Time: 09:30 AM
Registration Time: 8:00AM
Location:
401 E. Jefferson St , Phoenix, AZ 85004
Chase Field
Important Update
Our March for Babies celebration is still on, but it looks a little different! We are rapidly preparing for a new, virtualized event that will be fun and engaging for everyone. This change in format aligns with the newly released CDC guidance for large events, to help ensure the safety and health of our participants. More details on our new format to come soon!
Join the Movement, Live and In Person! NEW WALK LOCATION - CHASE FIELD !!!!
In 2023, March for Babies: A Mother of a Movement™ has a bold new vision. More than just a walk, it's your entry into making a visible difference in your community now and for generations to come.
By participating in March for Babies, you're lifting up communities for health equity, opening the door for all moms to have access to care and protecting the health of families by pushing for their rights. It's no small feat—it's a mother of a movement!
Start or join an existing team today, create an online fundraising page and let everyone know that you're helping to make America a more equitable place and ensure that every mom and baby is healthy.
FAMILY CUP CHALLENGE
Calling all Family and Friends Teams to join us in the inaugural 2023 March for Babies: A Mother of a MovementTM Family Cup Challenge!
The inaugural Family Cup Challenge unites Family and Friends Teams in their desire to support the March of Dimes. Participating teams work together to inspire and engage others in the movement and raise funds, while also competing against each other to earn the title of the inaugural March for Babies: A Mother of a Movement Family Cup Challenge Champion!
Join us today
ABOUT THE LOCAL EVENT
---
EXPERIENCE PROGRESS* $154,214 RAISED (As of Thursday, Mar 23, 2023)
Raised: $154,214
Top fundraisers
2
Kymberly McLaughlin-Manteuffel
$2,003
Top family teams
1
Team Super Emmett
$3,255
5
Team Tiny Tot Warner
$786
Company, School & Org Teams
2
Arizona Change Makers
$3,789
3
United HealthCare AZ
$3,648
4
Alpha Phi Alpha - Delta Tau Lambda Chapter
$2,526
5
Microsoft + Botco.ai
$1,323
*The total amount displayed reflects the amount on the team or personal fundraising progress bar. If the progress bar is not displayed on the team or personal page, the team/person won't be displayed on the leaderboard. Leaderboard totals reflect cash and checks marked "received" on the online sponsor form as well as credit card and PayPal donations. Team captains can enter as cash and mark "received" any money raised through promotions, such as bake sales and casual days and any sponsorship money paid to the March of Dimes, on their team's online form. Record all donations on your online sponsor form before you turn in cash and checks to the March of Dimes!
---
Meet our Ambassador Family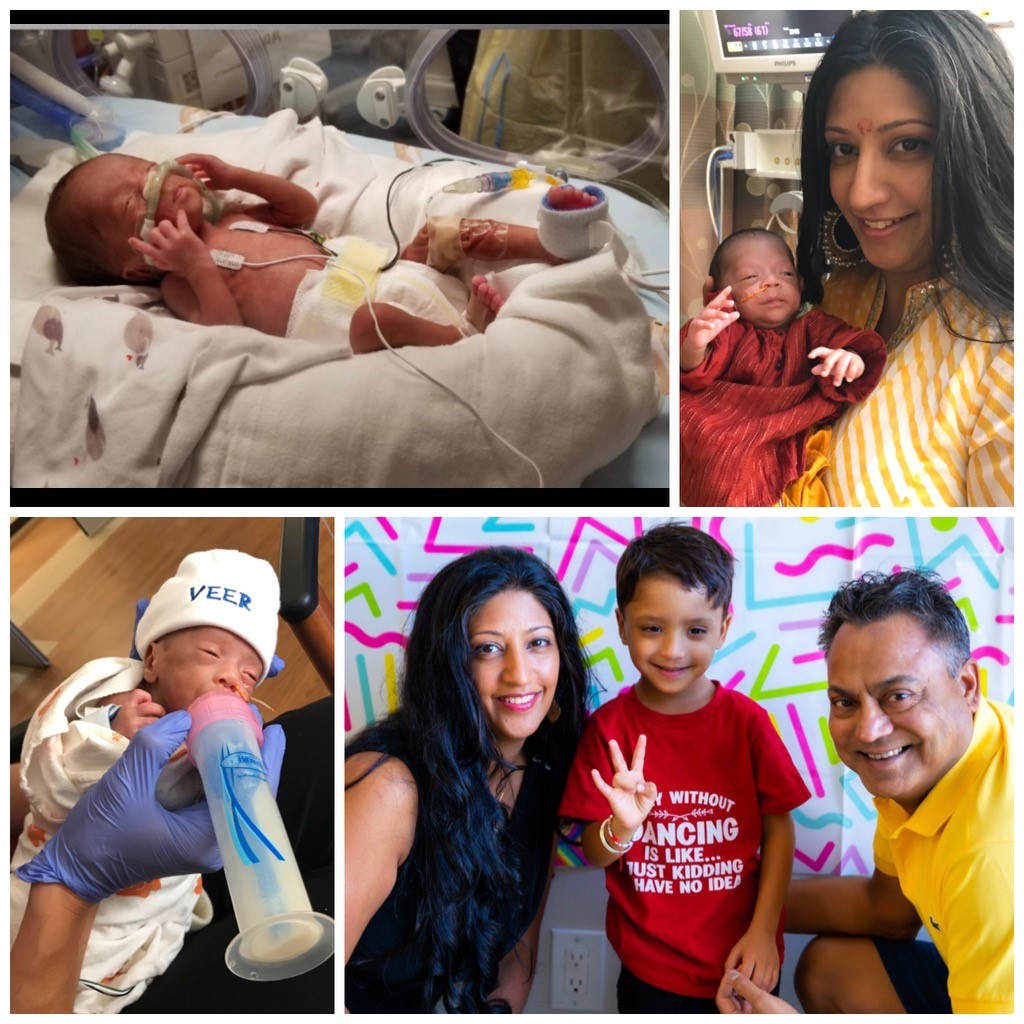 Deepa Nitin Veer
My initial introduction to March of Dimes was when I gave birth at St Joseph's in September, 2018 and their representatives connected with me to help me understand what it means to have a premature baby and the care they receive at NICUs. The representatives served as wealth of knowledge on topics that were new to us, provided us with connections for other agencies in the valley, and were there for emotional support as we struggled with navigating the experience at the NICU. My son was born on 9/11/2018 weighing 1 lb 11 oz and 13.5 inches. I don't remember much from my delivery but my husband remembers them struggling to take him out. He was too tiny and there was no fluid left to use to move him around so they were afraid of hurting him with too much pressure. He kept moving further away as they reached for him requiring them to do a T C-section and continuing to pull more and more to get him safely in their hands. At one point, they were debating if a blood transfusion would be needed for me because of the amount of blood I had lost in delivery. I passed out as soon as my husband said he was out and doing okay. I awoke to an empty room with no baby. They wheeled me into the NICU so I could see him but I couldn't touch him. They were all shocked that at this little, he did not need to be intubated (the steroid shot must have done its magic). They prepared us for so many things that could go wrong given how early and how little he was. We learned about bleeding in the brain that he could potentially have which the MRIs ruled out. They told us even though he's not intubated now, he may have to be given his size. He was never intubated; in fact, he shocked them all when he started breathing on his own much earlier than they anticipated. They prepared us for the feeding tube having to be in for a long time given how tiny he was and how some children even go home with feeding tubes because they don't have the strength to bottle/breast feed. He shocked them again because he kept pulling his own feeding tube out and took amazingly well to the bottle at barely 4 lbs. We had some scares – the blood transfusion he needed, the constant apnea and bradycardia alarms, the extremely slow eight gain, the surgery requiring full anesthesia but overall he continued to surpass the expectations of all his providers. They asked us to continue to follow-up with in home programs to monitor progress because he may not hit all his developmental milestones on time due to him being early. All follow-up programs cleared him at the age of one. The only thing we struggled with after that was getting him on the height and weight charts. We know we are blessed with how our story ended and with how well Veer is doing. However, we saw many families that had an experience far more difficult than us. There were quite a few scares along the way and this was the first case of a pregnancy in both our families that was not full-term, opening our yes to how traumatic an experience such as this can be. We want to do all we can to provide support for continued research and preventative care in this area, as well as providing support for families going through this today. - Deepa W.
PARTNER WITH MARCH FOR BABIES
Take steps with us to protect the health of every family today and for generations to come.
Thank you to our local sponsors
Become a partner