Thanks to all who purchased our 10th Anniversary "Team Sophie!" tshirts!!! We sold 25 shirts in total, and they will ship on or around April 12!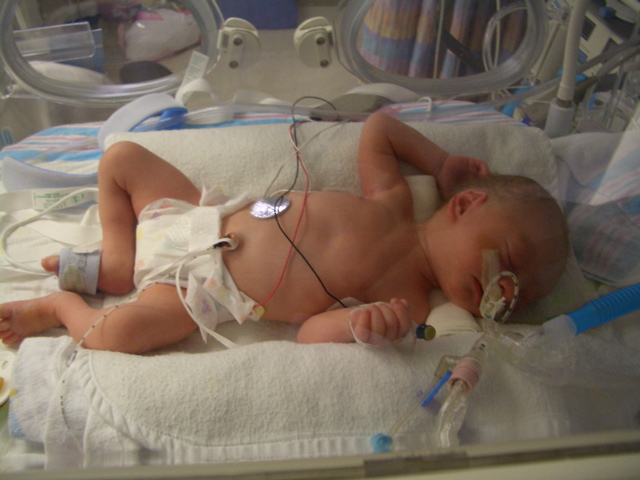 Our sweet Sophie was born nearly 8 weeks early on March 17, 2006. Weighing 4 pounds, 4 ounces, she was one of the larger babies in UAB's NICU, and yet still looked impossibly tiny. What had been a textbook pregnancy suddenly turned into a confusing whirlwind, involving terms Raya and I had to quickly learn -- surfactant, bradycardias -- and concerns about weight gain, body temperature, oxygen saturation, and more. Sophie's weight gains in the beginning were so infinitesimal, the nurses would ZERO OUT the digital scale after putting a gauze pad on it, so that few grams of weight wouldn't be reflected in the reading!
And yet, we were (and are) so very lucky. Sophie spent only 22 days in the NICU before coming home -- many babies spent much longer there, and sadly, some families never get to take their babies home.
Before Sophie's birth, we knew almost nothing about prematurity. We've since learned that premature birth is a major health problem in America -- 10% of babies in this country are born prior to 37 weeks gestation. Again, we're lucky -- Sophie doesn't have any ongoing health problems related to her early arrival; many families aren't so lucky. Premature birth can cause vision and muscular problems; in addition, it can cause developmental delays. Studies estimate that 1 in 3 children born prematurely will need special school services at some point. A 2007 study by the Institute of Medicine found that premature birth costs the United States $26 billion per year!!
Knowing all of this, and having experienced an unexpected premature birth firsthand, we are so proud to support the March of Dimes, and their main fundraising effort, the March for Babies. The March of Dimes raises funds to help research the causes of premature birth (many, like Sophie's, remain a mystery) and also to help support the babies who arrive too early. Three decades ago, a baby like Sophie, born at 32 weeks, would likely not have survived. Now, thanks to the staff and equipment found in the modern NICU -- much of it funded by the March of Dimes -- even the smallest babies have a chance.
For TEN years, we have supported the March for Babies. Sophie will be TEN years old at this year's March. If we can raise over $700 this year, our grand total over the past decade will be over TEN THOUSAND DOLLARS raised in Sophie's honor. So many of you have supported us and walked with us over the years, and we are eternally grateful for all the support we have received. The MFB has been a great way to introduce Sophie to philanthropy, to the idea of helping others in need.
Please, if you can, help us get to that $10,000 mark. Donate $10 in honor of Sophie's age, or $17 in honor of her March 17 birthday, or $42 in honor of her parents' ages, or $100 (which is 10x10 after all!), or any amount of your choice. We are grateful for any and all contributions. Just click "Donate" at the top right.
And, if you're in Charlottesville and able to walk with us on April 30, please click the "Join this Team" button to sign up with us!