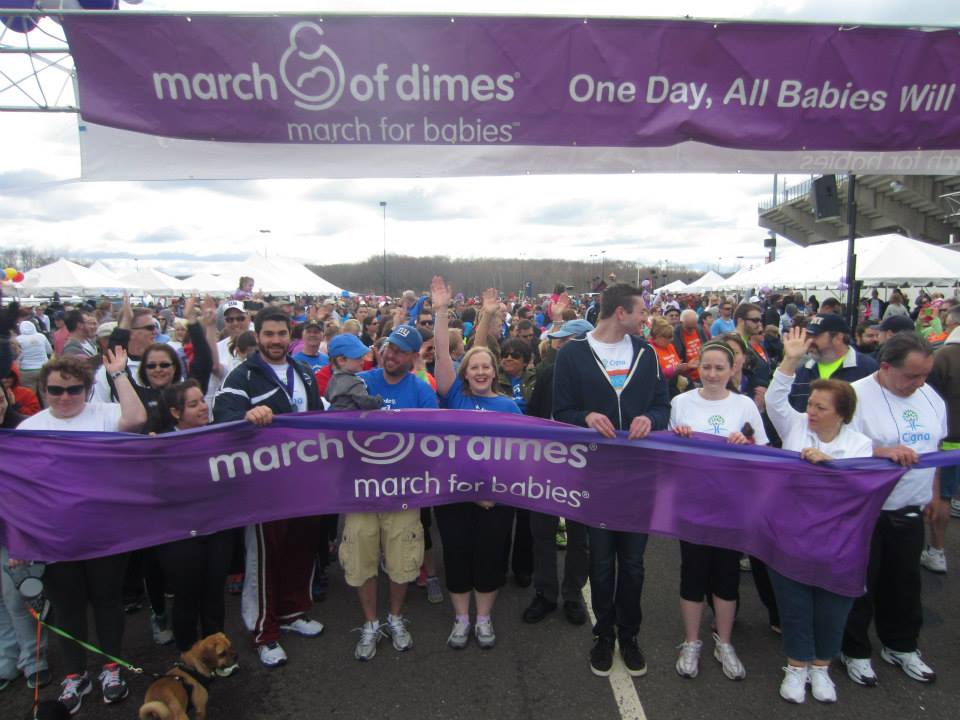 Greater Hartford
Raised to date
$637,232.15
Help us reach our goal:
$695,000.00
Date: Sunday, April 26, 2015
Registration time:
9:00AM
Rentschler Field
615 Silver Lane

East Hartford, CT 06118
(860) 815-9365 | CT322@marchofdimes.org
Want to help babies be born strong and healthy? Then register today to March for Babies at Rentschler Field in East Hartford. Proudly presented by Cigna, an estimated 6,500 people will gather to celebrate, honor and remember the precious babies and children in their lives. It's the largest March ...
More
►
Make a donation
Every family deserves to celebrate the birth of a healthy baby.
Help make that happen by supporting a fundraiser or team!
Event progress *
(As of Saturday, July 4, 2015)
Top non-family teams
Cigna - Information Technology
Top individual fundraisers
*
The total amount displayed reflects the amount on the team or personal fundraising progress bar. If the progress bar is not displayed on the team or personal page, the team/person won't be displayed on the leaderboard. Leaderboard totals reflect cash and checks marked "received" on the online sponsor form as well as credit card and PayPal donations. Team captains can enter as cash and mark "received" any money raised through promotions, such as bake sales and casual days and any sponsorship money paid to the March of Dimes, on their team's online form. Record all donations on your online sponsor form before you turn in cash and checks to the March of Dimes!
Incentives
$200.00
- March for Babies T-shirt
$350.00
- $15 Macy's or Kmart Gift Card and T-shirt
$500.00
- $25 Macy's or Kmart Gift Card and T-shirt
Our ambassador
Nancy and Miguel Proano of Manchester are proud to serve as Ambassadors for the March of Dimes in 2015. Here is some of their story in their own words… There is nothing quite like preparing your heart for a child that never comes. That is the emotion that we felt ever since we learned Angel was gone. When we found out we were expecting a baby in January we thought all of our prayers had been answered! But at our 12 week ultrasound we learned there was some abnormal swelling in his brain and at this stage it was difficult to tell what went wrong, but the baby was gone. We were completely blindsided, in shock. Neither of us had ever imagined that something like this could or would happen. In the weeks that followed, our doctor called and explained that tests were done and they were able to determine that our baby had a chromosomal abnormality called triploidy, meaning he had 3 sets of chromosomes instead of the normal 2. It is not compatible with life. We decided to name him Angel, after his Great Grandfather Miguel Angel, who passed away only a few months earlier and was surely caring for him in heaven. How do you recover? How do you move on? I started searching the internet for information on miscarriage and grieving, and found the March of Dimes. I didn't think I knew anyone who had experienced this kind of loss. I learned about March for Babies, and thought it would be a wonderful way for the two of us to remember and honor our little one who we were never able to meet. One day shy of a year since we lost our baby boy, on March 5th, our daughter Elena Claire was born healthy at 38 weeks. She is our "rainbow." With our Angel in our hearts and our Rainbow in our bjorn, we walk at March for Babies as team "Angels and Rainbows." Over the few short years of being involved with the March of Dimes, I have come to understand the global impact it has had on our communities, our country, and the world. We are all March of Dimes babies, whether we were born early, late, sick, healthy, in the US or elsewhere. Our babies will all be March of Dimes babies. Every life has been and will be impacted by the work they do. I pray that someday researchers will discover what causes triploidy and a way to prevent it, so no other families will have to suffer the loss of their child the way that we did with our Angel.
Thanks to our national sponsors:
Thanks to our local sponsors: